Professor's New Book Explores Legal Thinking
In a new book published by Harvard University Press, Law School professor Frederick Schauer explores the specialized type of thinking and problem solving common to the legal profession.
"Thinking Like a Lawyer: A New Introduction to Legal Reasoning, " is intended as both a primer for current, incoming or potential law students and as a contribution to a long-running scholarly debate over the specific nature — and even the existence of — legal thought, Schauer said.
"Partly, this book is intended to provide somewhat of a sophisticated introduction and comprehensive look at what it is that law schools claim to do, which is to teach students how to think like lawyers, " he said.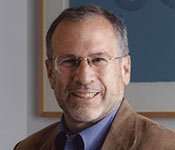 Educators at most law schools claim to train students to use legal reasoning, or to approach legal problems using a certain set of analytical methods, Schauer said.
But what exactly those methods are, and whether they are exclusive to legal students, scholars and practitioners, has become an issue of debate.
"There are people who would say that there is nothing distinctive about legal thinking, there's just good thinking and bad thinking, or moral thinking and immoral thinking," Schauer said. "But I think there is something distinctive, if not totally unique."
The running theme of the book, Schauer said, is the way legal arguments and reasoning frequently lead to decisions that may appear wrong for a particular case, but are right and necessary for the system as a whole.
The use of rules, precedents, authority and other common tools may not be totally unique to the law, but they are concentrated there, he said.
"We don't, for example, typically expect presidents to do something that their predecessors did, just because their predecessors did it. But that's exactly what we do in the courts and with the law when it comes to precedents."
In a written review, Judge Richard A. Posner of the 7th U.S. Circuit Court of Appeals called Schauer a leading scholar of jurisprudence, and praised the book's thoroughness and lucidity.
"All the bases are covered, and law students, teachers, practicing lawyers, and judges alike will gain perspective and insight from seeing the entire range of legal reasoning techniques laid out before them," Posner wrote.
The notion of legal reasoning has been explored before, but the disparate elements that go into it weren't previously tied together in a single volume, Schauer said.
In addition to legal scholars and practitioners, the book is aimed at incoming and current law students and provides an overview of the skills they will seek to develop.
"It doesn't cover the down and dirty of what lawyers do, but it explores how the thinking process of being a lawyer is different than the thinking process of other disciplines," Schauer said.
Founded in 1819, the University of Virginia School of Law is the second-oldest continuously operating law school in the nation. Consistently ranked among the top law schools, Virginia is a world-renowned training ground for distinguished lawyers and public servants, instilling in them a commitment to leadership, integrity and community service.