Moussaoui Case Judge to Headline Colloquium Focusing on U.S. Human Rights Litigation
Leonie M. Brinkema, the judge who presided over Sept. 11 co-conspirator Zacarias Moussaoui's criminal trial, will deliver the keynote address at the 22nd Annual Sokol Colloquium on Private International Law on April 2.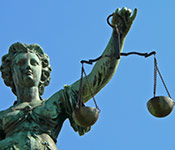 The colloquium, which this year is focusing on human rights litigation in U.S. courts, will include three panels featuring leading practitioners, scholars and government officials.
Brinkema, who hears cases from the Federal District Court for the Eastern District of Virginia, will speak during a luncheon at 12:30 p.m. in Caplin Pavilion.
Panelists will discuss litigation based on the Alien Tort Claims Act — a centuries-old law granting U.S. courts jurisdiction in some cases for human rights abuses abroad — the Foreign Sovereign Immunities Act, and litigation against U.S. officials, including for alleged detainee abuse. 
The Gustave Sokol Program on private international law was established in 1976 under a grant from the Gustave Sokol Fund. Colloquia bring together distinguished scholars, practitioners and government officials from the United States and abroad to discuss in detail a current topic of private international law.
Papers from the colloquium will be considered for publication by the Virginia Journal of International Law, which is a co-sponsor of the event along with the Law School and the J.B. Moore Society of International Law. The colloquium is open to the public and Virginia Continuing Legal Education credit is available. To attend, contact Donna D. Ganoe (ddg@virginia.eduor 924-4746) at the Law School by March 24; space is limited for the luncheon.
Founded in 1819, the University of Virginia School of Law is the second-oldest continuously operating law school in the nation. Consistently ranked among the top law schools, Virginia is a world-renowned training ground for distinguished lawyers and public servants, instilling in them a commitment to leadership, integrity and community service.