Experts to Explore Copyright at a Crossroads Schedule
A group of experts will explore the changing world of copyright law in the digital age at a Law School symposium Friday.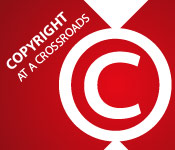 The rapid emergence of technologies such as peer-to-peer music sharing and streaming online video has made digital delivery of music, movies and other media as simple as the click of a button, and copyright law is evolving just as quickly, according to the student organizers of "Copyright at a Crossroads: How the Digital Age is Changing the Game."
"As digital technology has developed and the Internet has become the primary vehicle for distribution of music and videos, copyright law has adapted. The law has developed significantly, even in just the last few years," said second-year law student Mishima Alam, chair of the Virginia Journal of Law and Technology-sponsored symposium.
The symposium will feature presenters from academia, private practice and groups such as the Future of Music Coalition, and will feature topics relevant to law students both because of their legal significance and because they involve technologies embraced by many young people, Alam said.
"Students have been especially affected by these changes in their everyday lives, in their use of DVRs, YouTube and file-sharing of digital music, among other things. This symposium will help them understand the recent developments in copyright law and what it means for the future," she said.
The topics will include a recently overturned decision against a Minnesota woman who was sued by the recording industry for sharing about 1,700 songs online, as well as a dispute over whether cable providers are allowed to store digital copies of television programs.
The Virginia Journal of Law and Technology is a student-run publication focused on examining legal issues arising as the result of innovative technological change.
For more information, contact Mishima Alam or Renu Shah.
FRIDAY, FEB. 20 — CAPLIN PAVILION
9 a.m.
registration and continental breakfast
10-10:30 a.m.
Welcome and Opening Remarks

Christopher Sprigman; University of Virginia School of Law

10:30-11 a.m.
Online Distribution: Is 'Making Available' an Infringement?

Steve Englund; Partner, Jenner & Block

11-11:30 a.m. 
Cablevision's Network DVR: The Blind Men and the Elephant

Robert Garrett; Partner, Arnold & Porter

11:30 a.m.-
12 p.m.
Google Book Search and the Google Book Settlement: More Trouble

Sherwin Siy; Staff Attorney and Director, Global Knowledge Initiative, Public Knowledge

12-12:30 p.m.
A Fair Use Massacre? Automated Filtering Systems, Copyright Infringement, and the Future of YouTube

Susanna Fischer; Columbus School of Law, The Catholic University of America

12:30-1:30 p.m.
Lunch
1:30-2:30 p.m.
Panel Discussion on the Digital Millennium Copyright Act

Ann Chaitovitz; Executive Director, Future of Music Coalition

Steve Englund; Partner, Jenner & Block

Dotan Oliar; University of Virginia School of Law

Dr. Siva Vaidhyanathan; University of Virginia, Department of Media Studies

Moderated by: Edmund Kitch; University of Virginia School of Law

2:30-3 p.m.
Closing Remarks
Founded in 1819, the University of Virginia School of Law is the second-oldest continuously operating law school in the nation. Consistently ranked among the top law schools, Virginia is a world-renowned training ground for distinguished lawyers and public servants, instilling in them a commitment to leadership, integrity and community service.