Law & Business Conference Focuses on U.S. Role in Global Credit Crisis Schedule
Top scholars, business leaders and practitioners will explore the role of the United States in the global credit crisis during a symposium at the Law School on Friday.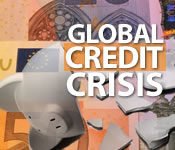 Featuring speakers and panels on the government bailout, country defaults, the future of the financial crisis and the slowdown in IPOs, the conference is sponsored by the Virginia Law & Business Review, a student-run journal focused on publishing scholarship at the intersection between law and business.
"The economic crisis is currently a hot topic in the news and is affecting all of us personally," said conference organizer Fiona Worrall, a second-year law student. "This symposium will help students understand what went wrong as well as the debate over the corrective measures being taken by the government."
Speakers include the chairman of the board of Virginia National Bank, the managing director of SunTrust Robinson Humphrey, an expert on distressed investment banking and U.Va. Darden School of Business Dean Robert F. Bruner. Law School Dean Paul G. Mahoney will moderate a practitioners' panel that concludes the symposium at 3 p.m.
For more information, contact Fiona Worrall.
FRIDAY, FEB. 13
9 a.m.
continental breakfast
9:10 a.m.
Welcome

Fiona Worrall, Virginia Law & Business Review

9:15 a.m.
Introduction

Professor Frank Warnock, Darden School of Business

9:45 a.m.
Anticipating the Next Round of Country Defaults: What Can We Do to Minimize the Pain?

Professor Mitu Gulati, Duke University School of Law

10:45 a.m.
The Impact of the Current Crisis on the Future of Corporate Governance

Professor Charles Elson '85, University of Delaware

11:45 a.m.
Lunch
12 p.m.
C'mon, Let's All Belly Up to the Bailout Bar!

Mark Giles '80, Chairman of the Board, Virginia National Bank

12:45 p.m.
Losing the First Dollar: The Current IPO Slowdown, Its Implications, and What It Takes to Make the Market Work Again

Arnold Evans J.D./M.B.A. '97, Managing Director, SunTrust Robinson Humphrey

1:45 p.m.
Whither Bailouts: What's a Government To Do?

Peter Kaufman '78, President and Head of Restructuring and Distressed M&A, Gordian Group

2:45 p.m.
break
3 p.m.
Practitioner Panel on the Current Economic Crisis

Moderator

Panelists

Dean Robert F. Bruner, Darden School of Business
Ned Kelly '81, Head, Global Banking and Citi Alternative Investments, Institutional Clients Group
Chip MacDonald '79, Partner, Jones Day
Founded in 1819, the University of Virginia School of Law is the second-oldest continuously operating law school in the nation. Consistently ranked among the top law schools, Virginia is a world-renowned training ground for distinguished lawyers and public servants, instilling in them a commitment to leadership, integrity and community service.