Donovan Joins Law School as New Head of Career Services
Kevin Donovan, a former litigation partner at Morgan, Lewis & Bockius in Philadelphia, has joined the Law School as head of the Office of Career Services.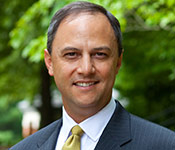 "Kevin Donovan combines managerial skills with a detailed knowledge of the law firm world, " said Law School Dean Paul G. Mahoney. "I'm very pleased that he will be here to help our students during a difficult time in the market for legal services."
Donovan, who began his post as senior assistant dean for career services this month, was a litigator at Morgan Lewis for 18 years and served as the firm's pro bono chair from 2003-08. At the firm he was heavily involved in recruiting and helped run three summer associate programs.
Donovan said he was excited to bring his experience in career services to the University of Virginia.
"I was at a point in my career where I had accomplished a lot of the things I had wanted to as a litigator and I was ready for something different, " Donovan said. "I had always heard great things about the University of Virginia, I knew a number of the graduates who were at our firm, and when I saw this opportunity, it interested me."
Donovan's practice focused on complex tort cases, including class actions and national serial litigation. He also was involved in commercial litigation, bankruptcy litigation and intellectual property litigation. He clerked for U.S. District Judge Frank J. Battisti in the Northern District of Ohio after graduating from the University of Pennsylvania Law School.
Donovan recently discussed some of the issues facing students, alumni and the legal profession in a challenging job market.
What are your goals for the Career Services office?
My goal for the Career Services Offices is that we would be a resource to and an advocate for the students as they go out into this very challenging job market — that we give them real value in their job searches, help them to think through the options that are out there, to self-assess and to think about where they would be happy and fulfilled in a job.
How is the Career Services Office responding to challenging economic conditions?
First, we're looking more broadly at the legal services industry. We're looking at employers of all types and all sizes. We're involved in direct outreach to employers to try to get the best sense of how the market is changing, and of where jobs are available. We're focusing heavily on clerkships and public service opportunities and we're tracking very carefully the data that's available on what's happening with the market and with the availability of jobs. So we're trying to get as much information together as possible so that we can help people to find the jobs that are out there in the markets and cities in which they're looking.
What can students expect from the Career Services Office?
We try to help students on all levels of the job-search process and so we will look at their resumes, help them with cover letters; we will help them think through the process of self-assessment, in which they try to think through what types of jobs would be the most fulfilling for them. We help them assess geographic markets, different law firms, different clerkships, to find the opportunities that fit best with their particular backgrounds and credentials.
How are you preparing students for today's job market?
Our advice to students right now is to think about where they would like to be, to think about what legal skills they enjoy using and what types of jobs would employ those — but then to look more broadly than they might have in the past. Some students may need to reach out beyond on-Grounds interviews to firms of different sizes, if they're looking at firms. The clerkship market also is going to be very competitive. Along those lines, we have created a new Office of Judicial Clerkships headed by Ruth Payne. The office will be working with students to focus their search efforts and to maximize their likelihood of success. To increase their flexibility, we also have expanded the number of clerkship applications that students can make through the Law School.
What do you tell alumni who are looking for a job?
We tell them to stay positive; people who come from this school are fabulously qualified and they have a great deal to bring to employers in the legal services market. The first-rate legal education and practical-skill development that the Law School provides puts graduates from this school in a uniquely strong position. So we help alumni find the employers who are still hiring and to make the best possible case for themselves as they market their services to employers.
How will the legal profession be affected by the changing economy?
The legal profession is changing. Clients in the private sector are more reluctant to have matters handled by attorneys who are junior and don't have an established skill set. So for employers to be able to sell the services of junior lawyers, they need people who they can credibly say have the type of skills that they need to practice. And so, there is more of an emphasis on developing practical skills as part of the process of legal education. Fortunately, Virginia is well ahead of the game with its many clinical programs, its pro bono program and its well-established Law & Business Program. These opportunities provide students with the type of ground floor knowledge that gives you a head start on your first day on the job.
What is the worst mistake you can make in an interview?
Though not the most common mistake, one of the biggest mistakes people can make in an interview is speaking negatively about a past employer or about a colleague.
What should you do to prepare for an interview?
The most important thing you can do to prepare for an interview is to know your audience and to really read everything you can find on the firm, the employer, the judge, whoever it may be. Not just the basic statistics, but if you know who your interviewer is going to be, find out about that person. You're not going to go in and show off a bunch of facts that you learned, but the point is that if you know your subject well, you will converse more freely and you will seem more informed, without even trying to. So it's very important to take the time to be prepared for your interview.
Founded in 1819, the University of Virginia School of Law is the second-oldest continuously operating law school in the nation. Consistently ranked among the top law schools, Virginia is a world-renowned training ground for distinguished lawyers and public servants, instilling in them a commitment to leadership, integrity and community service.