Breach of Trust Claims Avoid Pitfalls of Medical Malpractice Suits, Professor Concludes
Lawsuits focused on a doctor's breach of a patient's trust avoid many of the problems commonly associated with traditional medical malpractice suits, law professor Thomas Hafemeister concludes in a new series of papers co-authored with former law school students.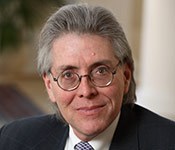 "In times of sickness and injury, patients trust and depend on their doctors to do what's best for them," Hafemeister said. "If a doctor fails to provide adequate care, the patient may sue."
However, current medical malpractice litigation has increasingly drawn criticism, he said.
An alternative option often noted but seldom employed by the courts are lawsuits that focus on a physician's alleged breach of the trust placed in them by their patients, Hafemeister said.
This violation of trust is generally referred to as a breach of the physician's fiduciary duty. Widely applied to other professional relationships, such as those between lawyers and clients or trustees and beneficiaries, this approach may provide a useful and valuable alternative to medical malpractice litigation, Hafemeister concludes in the articles, co-authored with Sarah Payne Bryan '09, Richard M. Gulbrandsen Jr. '08, and Selina Spinos '08.
"The fundamental difference between a medical malpractice claim and a fiduciary duty claim is that the former focuses on the physician's duty of care, while the latter targets the physician's duty of conduct, " Hafemeister said.
In the articles, Hafemeister, who is also director of legal studies at the Institute of Law, Psychiatry and Public Policy, explores how a focus on a physician's fiduciary responsibilities might better resolve certain cases that medical malpractice doctrine has struggled to address.
These include a physician's failure to disclose to a patient an emergent medical risk, a physician ordering an unwarranted course of treatment in response to a patient's demand for that treatment and the influence of pharmaceutical marketing targeted at physicians.
"In these articles we delineate a physician's responsibilities in these circumstances, as defined by the medical profession, and emphasize that physicians should adhere to the standards of conduct of their profession," he said.
In a paper recently published by the Washington University Law Review, Hafemeister examines a physician's fiduciary responsibility when the doctor learns a patient has a medical condition that either is the result of physician error or involves a previously unknown condition that was inadvertently discovered during the physician's unrelated treatment of another condition.
The doctor may be tempted not to disclose information regarding this emergent medical condition to the patient to avoid a malpractice lawsuit, Hafemeister said.
"Even though it may increase the physician's risk of a medical malpractice lawsuit, most physicians would disclose this information because it may be vital to enable the patient to avoid future harm," Hafemeister said.
A failure to disclose such information undercuts the trust that patients must be able to place in their physicians, Hafemeister said, and strikes at the fiduciary relationship that exists between the patient and the physician.
Encouraging physicians' adherence to fiduciary duties, Hafemeister said, will help ensure that the patient's well-being always remains the primary focus and minimizes the impact of any potential conflicts of interest.
"This in turn, hopefully, will provide guidance and support for physicians as they navigate their way through the increasingly complex world of modern medicine," he said.
In his second paper, published by the Seton Hall Law Review, Hafemeister looks at why doctors should not necessarily yield to patients who demand a particular drug or other treatment based on an advertisement they saw or the relatively incomplete information available to them on the Internet.
Hafemeister notes the surge in these information sources in the past few years and examines their sometime deleterious impact on the physician-patient relationship and treatment decisions.
"It used to be that physicians made all the decisions," Hafemeister said. "In recent years greater emphasis has been placed on patient autonomy and the right of patients to make medical decisions for themselves.  Some have argued that perhaps we have gone too far, because, after all, the patient is a lay person with limited medical expertise. What this paper addresses is the importance of a collaborative relationship between a patient and a physician."
But collaboration does not mean that doctors should abdicate their responsibility to promote the well-being of the patient.
"It would be inappropriate for the physician just to give in to a patient demand," he said. "Good doctors agree you can't abdicate your professional responsibility — you have to exercise independent professional judgment on behalf of the patient."
In the long run, patients benefit from the active involvement of physicians in treatment decisions, Hafemeister said. And by recognizing that physicians have a responsibility to remain actively involved in medical decisions, doctors will feel confident that they avoid the risk of liability when they refuse to assist a patient's demand for an inappropriate treatment.
In a third paper published by the University of Kansas Law Review, Hafemeister explores the massive efforts of manufacturers and distributors to influence doctors to use various medical products or medicines.
Although this marketing has changed from the days when they would provide extravagant trips and gifts to doctors, physicians still receive a host of free items like notepads or pens with products' names, free lunches for the office during a demonstration by a product representative and drug samples. Private companies also sponsor continuing-education training and clinical trials.
"These are provided by companies dedicated to maintaining their bottom line and reflect recognition of how these efforts have the potential to shape physician's treatment decisions," he said.
"These efforts have begun to get a lot of attention in recent years as potentially compromising the independent medical judgment of physicians," Hafemeister added. "If this is a product you see on the shelves of your practice, or you associate it with pleasant memories such as a good meal, that's the product that's likely to jump to your mind when you're charting out a course of treatment for a patient."
However, physicians and their organizations are increasingly recognizing the insidious and potentially harmful impact of these freebies on medical decision-making and are trying to distance themselves from them, he said.
"As part of physicians' fiduciary duty to their patients, physicians have a responsibility to maintain independence and impartiality in their medical decision-making, and to always put the well-being of their patients first and to not allow their judgment to be compromised by these other influences."
Possible solutions might include establishing clearinghouses so doctors could order free samples from a neutral third party, Hafemeister said. Patients would still get the benefits of free samples, but doctors would be better able to exercise their independent medical judgment in making a choice about which medicines to employ and to make available to their patients.
"This is a viable way for the pharmaceutical industry to get their product out there, which is important," he said. "There are a range of treatment options available for most medical conditions. This permits important information about various treatments to reach physicians, but injects some breathing space so physicians' judgments can remain independent and focused on the well-being of the patient."
Founded in 1819, the University of Virginia School of Law is the second-oldest continuously operating law school in the nation. Consistently ranked among the top law schools, Virginia is a world-renowned training ground for distinguished lawyers and public servants, instilling in them a commitment to leadership, integrity and community service.