Waldron Delivers Meador Lecture on Law and Religion
Professor Jeremy Waldron explored the appropriate place of religion in public discussions on government and policy last week during the Law School's Meador Lecture on Law and Religion.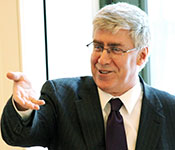 Waldron, a University Professor at New York University Law School, analyzed the issue through the prism of a 2007 declaration against torture by the organization Evangelicals for Human Rights, which opposed torture on religious grounds.
"The statement went on to say that when someone is tortured, the act communicates to the world that human lives are not sacred and that this is a claim that no one who confesses Christ as lord can accept," Waldron said to a standing-room-only audience in Caplin Pavilion.
There are differing positions on the both the ethics of making such statements and the appropriate response from those who don't share the same religious view, he said.
"Assume that you don't share the faith of the evangelicals who authored and supported this declaration," Waldron said. "How should you respond to it? Should you be offended? Should you be scared? Are you entitled to condemn this as inappropriate in the politics of a multi-faith society, whose political system claims to respect a wall of separation between church and state? Should you try to answer this declaration? Should you support it if you support the conclusion it reaches? Should you try to silence it, or call for it to be silenced? Or should you just politely ignore it as so much background noise or superstitious gibberish?"
Waldron explored some of the objections to religious speech in public discussion. He said that some contend that religious interventions such as the evangelical declaration against torture, though seemingly benign, are by their nature implicitly theocratic because they invoke divine authority to justify a legal position.
But there is no requirement, he said, that Christians should refrain from participation in public life on the basis of their values, "provided this is accompanied by a willingness to grant all citizens of all world views and moral conviction the legitimacy of their own faith-based participation in American political life."
Others are concerned about the basic civility of such a statement, because the premise of the argument will fail to resonate with a large portion of society whose members do not share the religious beliefs cited as support for the argument.
Though Waldron said this is a legitimate objection to such religious interventions, he said the burden of civility doesn't rest solely on the speaker. It's not appropriate, he said, for secular citizens or people of other faiths to close their minds to a particular position just because they do not share the same underlying religious values.
"If they do turn a deaf ear, for whatever reason, they can hardly turn around and complain about the incivility of the speaker," he said.
Even though some of those who mix religion and politics may be "political infants" or "gasbags" — though Waldron pointed out that these characteristics are found throughout the political spectrum —there is an appropriate role for religious interventions as part of the democratic process, he said.
"I would not trade a politics replete with windbags that yielded the occasional flash of spiritual insight for a Gradgrind politics of consequences – a world of law and economics if you like – a politics of consequences deadened to sacredness and principle, pursuing the flat, inexorable process of trade-off after trade-off after trade-off, until there is nothing of integrity to hold on to."
Founded in 1819, the University of Virginia School of Law is the second-oldest continuously operating law school in the nation. Consistently ranked among the top law schools, Virginia is a world-renowned training ground for distinguished lawyers and public servants, instilling in them a commitment to leadership, integrity and community service.