Napolitano Endorses Public Service Careers for Young Lawyers
Spending time in private law practice before turning to public service is a legal tradition that goes back to the University of Virginia's founder, Department of Homeland Security Secretary Janet Napolitano '83 told Law School students Tuesday.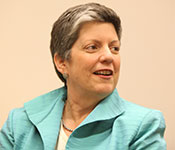 Prior to his political career, Thomas Jefferson read the law under George Wythe and spent seven years as a working lawyer, said Napolitano, who spoke at the Law School after receiving the Thomas Jefferson Foundation Medal in Law.
"Not only are we at the seat of his home and his traditions, but the notion that he went from reading the law to practicing the law as a commercial lawyer to public service is very much a tradition that has continued through United States history, and that I hope some of you are considering," she said to students assembled in Caplin Auditorium. 
Napolitano traced her own career path from law school to her current position as the head of the third-largest department in the federal government and described current DHS efforts in areas such as immigration enforcement.
She left Charlottesville in 1983 to clerk for a judge in Phoenix, where she later worked at a law firm, first as an associate and then as a partner.
"While I always had a notion that I wanted to do something in the public service realm, I also needed to pay off some loans and get settled financially, like many students do," she said.
Napolitano later left private practice and got involved with the Arizona Democratic Party. She was appointed the state's U.S. attorney by President Bill Clinton, a move she characterized as her first step into her career in public service.
Afterward, Napolitano successfully ran for both attorney general and governor in Arizona before joining the Obama administration.
"The dive into electoral office was something very different indeed. There, you really have to make the decision that you are willing to go through a certain amount of stress that you are willing to undertake knowing that everything you have done will be subject to criticism and even ridicule," she said. "There are things that go into running for political office that make doing it a tough decision."
This type of scrutiny and partisan criticism isn't entirely a result of the modern 24-hour media cycle and blogosphere, Napolitano said. History shows a similar phenomenon during Jefferson's time.
"They also had to deal with a print press that was much more ideological and vituperative than anything we see today," she said.
However, Napolitano said she decided to throw her hat in the ring and run for Arizona attorney general because she didn't "want to be 80 years old and sitting on my porch saying 'woulda, coulda shoulda.' If was going to dive, it was time to dive, and into the waters I went."
Napolitano was later embroiled in a hotly contested race when she ran for governor, one in which her opponent didn't concede until the Sunday following Election Day. At the time she entered office, the state had a large deficit and both houses of the legislature were controlled by the opposing party.
"How do you govern in that type of situation? How do you move your agenda forward? How do you set your agenda? How do you know if you are going to compromise on a bill or not? How do you make a decision on whether to veto a bill or not? All of those [questions] are the grist of the mill for anyone who serves as a chief executive."
Napolitano said her tenure as governor was marked by successes and failures, and that a feeling of having left work undone is part of the nature of the job for any governor or president.
"At a certain time your term is over and you turn it over to the next person. And they may want to focus on reversing what you did, amending what you did or furthering what you did, and that is the nature of the political process."
Napolitano said the Department of Homeland Security has possibly the broadest area of jurisdiction in the federal government, aside from the president, because it covers everything from disaster relief to the Secret Service and Coast Guard.
The department is also involved in the development of new technology, such as the next generation of screening devices being implemented in airports around the country, she said. Homeland Security is additionally tasked with the intricate issues of immigration and migration, she said.
"I have taken one of your own, Professor [David] Martin, with us at the department as the deputy general counsel, and really chief counsel on all matters related to the very complicated issue of immigration and migration policy, law and enforcement," she said. 
The Thomas Jefferson Foundation Medal in Law is the highest external honor bestowed by the University, which grants no honorary degrees. Recent past winners include U.S. Supreme Court Justice Antonin Scalia and Innocence Project co-founders Barry Scheck and Peter Neufeld.
Full list of Thomas Jefferson Foundation Medal in Law Recipients
Founded in 1819, the University of Virginia School of Law is the second-oldest continuously operating law school in the nation. Consistently ranked among the top law schools, Virginia is a world-renowned training ground for distinguished lawyers and public servants, instilling in them a commitment to leadership, integrity and community service.