Panel Examines Earthquake's Effect on Safety of Haitian Women
Haitian women are particularly vulnerable to violence and attack in the wake of January's devastating earthquake, according to a panel of experts who spoke at the Law School on Monday.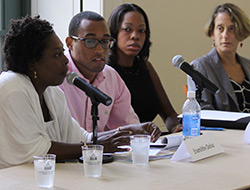 The panel, led by Professor Deena Hurwitz, discussed gender-based violence in Haiti since the earthquake.
In the first two months after the earthquake, the Commission of Women Victims for Victims (KOFAVIV) tracked 230 incidents of rape in just 15 of the hundreds of refugee camps in Haiti.
A lack of security in the camps for internally displaced persons, which hold more than 2 million of the country's 9.8 million citizens, as well as law enforcement's indifference and lack of capacity have led to lawlessness, according to panelist Tamara Brown, pro bono staff attorney with the Institute for Justice and Democracy in Haiti and vice-chair of American Bar Association's section of international law and international human rights committee.
"Although sexual violence has always been an issue in Haiti's history,  women and girls are particularly vulnerable because women are living in the tents in the crowded conditions since the aftermath of the earthquake," Brown said.
Another panelist, Eramith Delva, is a rape survivor and founder and co-director of KOFAVIV. The organization was created in 2004 amid the violence during the presidency, and after the exile, of former Haitian president Jean-Bertrand Aristide.
KOFAVIV's mission is provide rape-prevention education and medical and legal assistance for survivors of gender-based violence. First-year law student Gabriel Hippolyte, a native of Haiti, served as interpreter during the discussion.
"Aside from just finding justice for the women, we wanted to have a form of strategy to aid the women, in terms of bringing them to clinics as well as giving them forms of psychological help and awareness after the assault," Delva said. "The main objective is to have women's rights in Haiti and have that respected."
An already overburdened police force was decimated by the earthquake. Only 2,261 police officers serve Haiti's nearly 10 million residents, and remaining law enforcement officials are indifferent to rape victims, Delva said. After Delva and KOFAVIV reported one rape, a Port-au-Prince policeman said "it wasn't their problem," according to Delva.
One judge, according to Hurwitz, once referred to the rape victims as "merely promiscuous."
These attitudes have only served to motivate advocates like Delva, Brown and Hurwitz.
"It falls upon us also to try to protect ourselves," Delva said. "There are a lot of organizations that talk about violence against women, but not a lot of actions are being taken to prevent these situations."
A lack of electricity results in poor lighting in the camps. KOFAVIV has responded by providing whistles and flashlights to women and girls in the camps in addition to rape prevention education. 
Organizations also have been formed to provide legal support for rape survivors. Among the many goals of the Rape Accountability and Prevention Project, sponsored by the Institute for Justice and Democracy in Haiti, is to provide legal advocacy for rape survivors.
"RAPP seeks to deter future rapes and to ensure that perpetrators are punished," Brown said. "The widespread impunity that exists for perpetrators not only encourages further abuses but sends the signal that male violence against women is accepted or normal. It is not."
But hope remains. "Few countries in history have found themselves in such despair as Haiti," Brown said. "I'm proud that it's the women of Haiti who are in the forefront of this new beginning."
"The woman's fight is a long one," Delva said, "and we're not going to give up our fight."
Hurwitz, director of the Law School's Human Rights Program, participated in a weeklong examination of rape and other gender-based violence in Haiti's capital in May.
"Along with that humanitarian intervention, which is good, comes certain obligations and responsibilities," Hurwitz said. "It's important not to come and just give charity, but to empower people."
The Black Law Students Association is sponsoring a trip to Haiti during winter break.
Founded in 1819, the University of Virginia School of Law is the second-oldest continuously operating law school in the nation. Consistently ranked among the top law schools, Virginia is a world-renowned training ground for distinguished lawyers and public servants, instilling in them a commitment to leadership, integrity and community service.