Human Rights in Education: Comparative Perspectives on Local and International Advocacy Schedule
A daylong symposium, Human Rights in Education: Comparative Perspectives on Local and International Advocacy, will be held at the Law School on Oct. 15 in room WB102.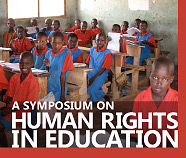 The symposium is an extension of an inter-disciplinary seminar co-taught by Professor Deena Hurwitz and Professor Carol Anne Spreen of the Curry School of Education, and involves students from the College of Arts and Sciences, the Batten School of Leadership & Public Policy, the Curry School of Education and the Law School.
At the symposium a select group of human rights and education lawyers and advocates will share their research, work and personal experiences on education rights as well as local education advocacy. Invitees will discuss cases around the right to education, including indigenous rights in education (Suriname and Guatemala), multiculturalism, constitutionalism and human rights (Colombia and Guatemala), the rights of disabled and or marginalized youth (India), education in emergencies (Afghanistan and Pakistan) and the rights of refugees/forced migrants (South Africa).
Like the seminar, the symposium will involve community-based organizations from the Charlottesville-Albemarle area, such as JustChildren/Legal Aid Justice Center, the International Rescue Committee (IRC), Court Appointed Special Advocates for Children (CASA) Piedmont, and local public school professionals.
Parking:
Normal parking restrictions in the Law School's D-2 lots will be lifted, and guests are encouraged to park in the D2 lot on the west side of the Law School. Those with Law School parking permits should park in their regular lots.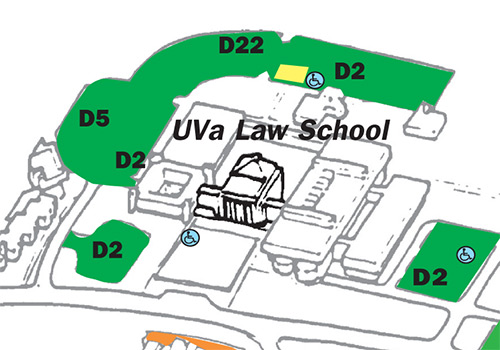 Lunch:
An RSVP is required if you plan to attend lunch. Please RSVP to lawevents@virginia.edu.
Map:
A map of the law school is available here.
For more information::
Please contact Carol Anne Spreen or Deena Hurwitz.
Note: All sessions will be in room WB102, and the lunch and reception will be in the Purcell Reading Room. Registration and breakfast will be in Student Lounge No. 1.
8:30-9 a.m.
Continental Breakfast / Registration, Student Lounge No. 1.
9-9:45 a.m.
Welcome and Keynote: Understanding Rights To, In and Through Education
Professors Deena Hurwitz and Carol Anne Spreen, Symposium Coordinators
Dean Paul Mahoney, Law School
Dean Robert Pianta, Curry School of Education
Keynote: Peter Hyll-Larsen, Right to Education Project, U.K.
9:45-11 a.m.
Panel I: The State and National Education Plans / Policies
Nisha Thapliyal, Colgate University: Right to Education Legislation in India
Daniel Bonilla, Universidad de Los Andes, Bogota Colombia: Broader Legal Frameworks (education policy, ESCR, multiculturalism), Colombia and Constitutional
José Roberto Morales, Comité para la Acción por Derechos Humanos, CALDH, Guatemala: Multiculturalism, Interculturalism and Pluriculturalism in Approach to Education
Moderator/Discussant: Professor James Ryan (invited)
11-11:15 a.m.
Coffee and Tea Break
11:15 a.m.‐12:45 p.m.
Panel II: Rights in Education for Marginalized and Vulnerable Groups
Salim Vally, University of Johannesburg, South Africa: Refugees in Southern Africa
Ellen-Rose Kambel, Association of Indigenous Village Leaders, VIDS, Suriname: Indigenous and Afro-descendant Communities in Suriname
Dana Burde, NYU, Afghanistan: Education in Emergency and Post Conflict Situations
Jehanzaib Khan, NYU, Save the Children/ Pakistan: Parents Education Decisions, Education in Crisis Contexts
Nina Rabin, University of Arizona Southwest Institute for Research on Women, Border Project Director
Moderator/Discussant: Professor Deena Hurwitz
12:45-2:15 p.m.
Luncheon and Speaker, Purcell Reading Room
Professor Tomiko Brown-Nagin: "Some Realism About Legalism in Education Reform: Lessons from History"
2:15-3:15 p.m.
Panel III: What a Rights-Based School Looks Like
Guillermo Chen, Co-founder and Director: Escuela Nueva Esperanza, Rabinal, Guatemala
Brad Aaron, Machik Foundation, Operations Director, Program Associate, UVA Tibetan Sustainable Governance Program: Chunbga Primary and Middle Schools, Ganzi Tibetan Autonomous Prefecture
Moderator/Discussant: Peter Hyll-Larsen, Right to Education Project, U.K.
3:15-4:15 p.m.
Panel IV: Refugee & Immigrant Children in Charlottesville/Albemarle Schools: Towards a Culturally Relevant Pedagogy
Courtney Stewart, International & ESOL Program Coordinator, Albemarle County Schools
Tina Vasquez, ESL Instructor, Charlottesville City Schools
Laura Brown, ESOL Student Support, Migrant Education, Albemarle County Schools
Elaine Cecelski, ESOL Student Support, Albemarle County Schools
Sharon Webb, ESOL Instructor, Albemarle High School
Moderator/Discussant: Carol Anne Spreen
4-4:15 p.m.
Coffee /Tea Break
4:15-5:30 p.m.
Panel V: Advocating For and Ensuring Rights Locally
Mirna Dickey, International Rescue Committee, Charlottesville
Angela Ciolfi, Director, JustChildren
Martha Trujillo, Cresciendo Juntos
Peter Loach, Piedmont Housing Alliance
Moderator/Discussant: Professor Doug Ford
5:30-7 p.m.
Closing Remarks and Reception, Purcell Reading Room
Founded in 1819, the University of Virginia School of Law is the second-oldest continuously operating law school in the nation. Consistently ranked among the top law schools, Virginia is a world-renowned training ground for distinguished lawyers and public servants, instilling in them a commitment to leadership, integrity and community service.