Nelson's 'Statutory Interpretation' Offers Fresh Take on Understanding Legislation
A recently published casebook by University of Virginia law professor Caleb Nelson offers a new framework for understanding how to interpret statutes.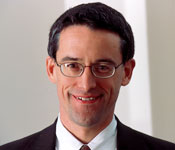 "Statutory Interpretation," available from Foundation Press, grew out of materials Nelson used to teach his course on legislation.
"Statutory interpretation is an extraordinarily important part of the practice of law these days," Nelson said."I hope that the casebook will equip law students to confront the interpretive questions that they're going to come across in practice, to recognize recurring patterns in questions of statutory interpretation, to figure out how to frame arguments in ways that real-life judges might find persuasive, and just generally to be better lawyers in interpreting statutes. But the book also has the goal of theoretical sophistication; it aspires to think about techniques of statutory interpretation systematically."
Professor John Harrison, who also has taught legislation at the Law School, called Nelson's book both usable and first-rate scholarship.
"Although casebooks are largely indistinguishable from one another, a tiny number of them are major intellectual achievements that shape the way teachers and students think about their field," Harrison said."Probably the best-known example of the latter category is Hart and Sacks' 'The Legal Process,' which originated or clarified fundamental concepts and arguments that have since become commonplace. Caleb Nelson's new casebook takes 'The Legal Process' as its inspiration and is the rare work that can stand the comparison."
Nelson said he hoped the casebook would offer students a framework to understand arguments about the meaning of statutes.
"An underlying theme of my course is that the ways in which people talk about statutory interpretation often don't really capture exactly what's going on, and that maybe we don't have good enough ways to describe different approaches to statutory interpretation," Nelson said."One aspiration of the book is to show what I consider to be the important moving parts that distinguish different approaches."
Harrison said the book "identifies and systematizes important issues of which many teachers probably have not been aware."
"Although the courts have been dealing with [these issues] for many decades, their content, and possible ways of dealing with them, have not been formulated in a way that would make them accessible to analysis," Harrison said. The casebook "organizes the field of statutory interpretation, clarifies existing problems and arguments, and contributes Professor Nelson's own approaches and solutions to many long-standing puzzles."
One of Nelson's former students, Steve Murphy '10, is in discussion with Washington & Lee about teaching a course on statutory interpretation next year, and plans to use the casebook.
Nelson "has done the legwork in identifying the key cases, framing them properly, locating and summarizing further issues and statutes, and posing a series of questions," said Murphy, who currently practices law in Charlottesville.
"These questions are particularly important to the modern lawyer. In my practice, I often find that I lack any substantial body of case law upon which to rely. Rather, it is just me and a lengthy statute or regulation, and I am forced to make sense of those materials and present a coherent argument to the court."
Murphy said Nelson's casebook offers a good foundation for future lawyers.
"Nelson's goal is to engage the student so the student can both understand how to use the tools as an advocate, but also how to defend against those tools if they are used against the advocate's position," he said.
Founded in 1819, the University of Virginia School of Law is the second-oldest continuously operating law school in the nation. Consistently ranked among the top law schools, Virginia is a world-renowned training ground for distinguished lawyers and public servants, instilling in them a commitment to leadership, integrity and community service.