Climate Regulation Begins at the State Level, Speakers Say
Altering climate change regulations is a task that starts and ends with the states, according to a pair of experts who spoke last week at a Law School symposium sponsored by the Virginia Environmental Law Journal.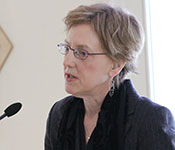 Vivian Thomson, an associate professor who teaches in UVA's departments of Politics and Environmental Sciences, and Cale Jaffe, a Law School lecturer and senior attorney at the Southern Environmental Law Center, were two of the featured speakers at the symposium, which focused on the impact of climate change legislation on the American energy economy.
Thomson shared lessons she learned as a young analyst with the Environmental Protection Agency and, more recently, as an eight-year member and former vice-chair of Virginia's State Air Pollution Control Board.
From her work with the EPA, Thomson said she learned that state cooperation with federal environmental mandates is key to the success of national laws.
"We're too large and too varied a country for the EPA to do the work of the Clean Air Act and we are, after all, the United States of America," she said."There's a long tradition of sharing responsibility between the state, local and national government authorities in various policymaking arenas, including the environment."
Thomson said that when the EPA fails to respond to pertinent issues, many states will respond by attempting to regulate themselves. However, states often lack the technical and scientific resources that may be necessary to create and enforce effective regulations.
And politicians, regulators and the regulated community respond much better to incentives - the proverbial carrot - than to punishment, Thomson said. The 1986 Clean Water Act amendments and the 1990 Clean Air Act amendments were passed with bipartisan support in part, she said, because of appropriate incentives.
Thomson advocated use of firm regulatory floors to respond to the opposition posed by businesses with substantial resources. The regulated community must be matched on technical, legal and scientific grounds, and state regulators must be ready to tackle "complicated, thorny, technical legal policy thickets."
The sharp partisan divide between Republicans and Democrats will make it harder than ever before to pass effective national legislation to address climate change, she said. The remoteness of climate change also makes it difficult for members of Congress to convince constituents to support such measures.
"Local and regional impacts of climate change are not immediately palpable to ordinary people as are smog or soot or polluted waterways. This remoteness temporally and spatially makes it harder for members of Congress to belly up to the bar of steep emission reductions when their constituents are asked to pay for improvements in far-flung corners of the world."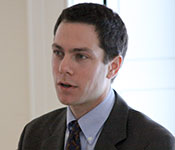 Jaffe agreed with Thomson's assessment that, although there is little dispute that climate change is occurring, the movement to address it is weaker than ever. It would be impossible today to pass many of the influential environmental laws that were implemented in the 1970s, he said.
The two most innovative elements of those environmental laws are citizen supervision and the requirement of pre-construction permitting, Jaffe said. Citizen supervision deputizes all of us to enforce environmental law, he said, and pre-construction permitting introduced by the Clean Air Act requires polluters to obtain permits before they even break ground on a polluting facility.
The Clean Air Act had wide, bipartisan support, and was signed into law by Richard Nixon, Jaffe said. Now, however, environmental issues are polarized as a Democratic issue, and are much less likely to receive support from both sides of the aisle. Jaffe said this is in part the fault of environmentalists, who wrote off John McCain as an enemy of the environment in February 2008 - before the Democrats had even chosen their presidential candidate. Jaffe said McCain historically has not been an opponent of environmental groups, but once they made it clear they would not work with him, McCain changed his position on some key environmental issues, including offshore drilling. After that, his donations from oil and gas companies skyrocketed, Jaffe said.
Jaffe discouraged congressional leaders from engaging in tactics meant to delay the passage of environmental regulations. While it is helpful to engage in economic analysis of potential environmental regulations, no environmental laws will be pure winners or pure losers, he said.
"There's a wide, disparate range of views, which highlights a second reality here, which is that climate change legislation will not be either an economic loser or an economic winner," Jaffe said."There will be some companies for whom this will be a huge gain. They've made the [research and development] investments, they're ready to succeed, they're waiting for a price to be put on carbon and they will make money hand over fist. And there are others who have sat back, who aren't ready to take advantage of that change, and they are going to lose. It's not the economy versus the environment."
Jaffe concluded by encouraging environmental groups to work hard in the states. It is not enough to send people to Washington, D.C. , because environmental progress begins in the states, he said.
"Get out there to each and every single state, because if you can move the states one by one with a tenacious amount of energy, you will get where you need to get on a national climate bill," he said.
Founded in 1819, the University of Virginia School of Law is the second-oldest continuously operating law school in the nation. Consistently ranked among the top law schools, Virginia is a world-renowned training ground for distinguished lawyers and public servants, instilling in them a commitment to leadership, integrity and community service.