Goluboff Wins Order of the Coif Book Award
Professor Risa Goluboff has been awarded the Order of the Coif Book Award for her 2007 work "The Lost Promise of Civil Rights."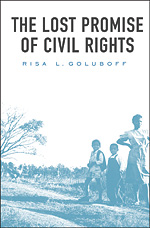 The biannual award, presented in New Orleans today during the annual meeting of the Association of American Law Schools, is a top honor for books about the law, and Goluboff joins an accomplished list of former winners.
"I'm very excited, it's a wonderful honor," Goluboff said.
Her book is about the fight for civil rights as it existed before the landmark Brown v. Board of Education case in 1954. Specifically, Goluboff examined the way that African-American workers understood civil rights, and what they were asking lawyers to do for them. A paperback edition was released in October.
"What I found was that civil rights meant very different things before Brown than it did after. In particular, civil rights encompassed claims to material equality as well as formal legal equality," she said.
The NAACP lawyers who developed Brownconsidered and discarded a number of other cases, including several on behalf of workers, and their decision to focus on Jim Crow as a legal system rather than as a legal and economic system of exploitation had far-flung ramifications, Goluboff said.
A committee appointed by the Order of the Coif considered every law and law-related book published during 2007 and 2008 before selecting eight finalists and eventually choosing "The Lost Promise of Civil Rights" as the winner, according to Professor Alex Johnson, who is also president of the Order of the Coif's executive committee.
"All members of the group read this book and gave it very high praise indeed," Johnson said.
Goluboff learned that she had won the award when Johnson called her to his office.
"He had printed out the list of former recipients and put my name at the bottom. I was humbled," Goluboff said.
That list includes professors Chuck McCurdy and G. Edward White, as well as others such as John Hart Ely, John Rawls and Judge Guido Calabresi of the 2nd U.S. Circuit Court of Appeals. Goluboff is the third woman to win the award, which until 2004 was given only every three years.
Founded in 1819, the University of Virginia School of Law is the second-oldest continuously operating law school in the nation. Consistently ranked among the top law schools, Virginia is a world-renowned training ground for distinguished lawyers and public servants, instilling in them a commitment to leadership, integrity and community service.