Fitzgerald '08 to Clerk for Justice Thomas
Matt Fitzgerald '08 has been hired to clerk for U.S. Supreme Court Justice Clarence Thomas, making him the third Law School alum selected as a Supreme Court clerk for the coming term.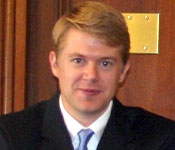 Fitzgerald is currently working at Hunton & Williams in Richmond, and said he is excited to begin the clerkship this summer.
"I never thought that I'd have such an opportunity," he said."A lot of people stepped in to help me at just the right time, and I got a nice stroke of luck also. I'm very excited."
Fitzgerald was clerking for Judge Ed Carnes of the 11th U.S. Circuit Court of Appeals when he learned Thomas had hired him.
"Judge Carnes' secretary, Blanche, was the first person I told," he said. "She had helped with my application, and was also basically the mother-away-from-home for Carnes' clerks every year, so she was thrilled."
Fitzgerald credited Judge Carnes and Professor Mimi Riley with helping him through the application process and providing encouragement along the way. Riley said Fitzgerald was an extremely bright student and a gifted writer with a natural talent for legal analysis and legal communication.
"He combines those talents with a personality that is caring, considerate and motivated to help others," Riley said."I expect great things from Matt following his clerkship this year. While he already has a professional record that could make his path very easy, he is not the type of person to take the straight or easy road, or to seek prestige for its own sake. I will enjoy watching him as he goes on."
Fitzgerald, a Richmond native who completed his undergraduate studies at Dartmouth College, spent a year before law school working on a sailing yacht and as a locksmith, positions he said gave him needed experience in the real world. He was first mate on a 100-year-old yacht, and worked in a boatyard to get it ready for sailing season in Connecticut.
"I think it's good generally not to pass right through school," he said."A year of working in the real world grounded me a lot and helped give me more perspective."
Fitzgerald will be back at the Law School this week to help judge the oral arguments of first-year students, which he said are very similar to the arguments he observed while clerking on the federal appeals court.
"I've seen a few dozen of these arguments, and they are always fun. I enjoy participating in them," he said.
Fitzgerald will join two other alums clerking for the court this year: James Stern '09 was selected by Justice Anthony Kennedy and Paul Crane '07 will clerk for Chief Justice John Roberts.
Related:
Founded in 1819, the University of Virginia School of Law is the second-oldest continuously operating law school in the nation. Consistently ranked among the top law schools, Virginia is a world-renowned training ground for distinguished lawyers and public servants, instilling in them a commitment to leadership, integrity and community service.