Lawsuits Favor Individual Over Societal Needs, Howard Says
The law favors the individual at the expense of society, Philip K. Howard '74 said Tuesday at a lecture sponsored by the Student Legal Forum.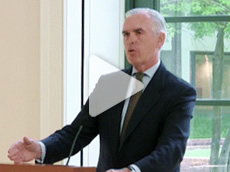 "If you pull back and you look at how law is affecting society, you see a dramatic skewing of a free society away from reasonable choices, away from common sense, away from accomplishment, away from freedom," Howard said.
According to Howard, this is because we have the wrong goal for law.
"It's not a system of individual rights but a tool for society. It's a system of balanced judgments," he said.
Howard, a practicing lawyer and author of books including "Life Without Lawyers ," and "The Death of Common Sense," founded the nonprofit group Common Good in 2002. The organization examines law's effect on the functioning of society and helps to shape policy. He called recent interpretations of the law, including frivolous lawsuits, an impediment to freedom.
"What people can sue for establishes the boundaries of everybody else's freedom," Howard said. If someone sues because their child fell off a seesaw, he said, all the seesaws get ripped out because of the fear of a similar suit. There are now no seesaws left in America, he said.
A majority of people may not feel free to do what they think is right, especially in important areas such as health care and education, because of the fear of lawsuits, Howard said.
"Freedom has a formal structure that we've ignored and forgotten," Howard said."The law sets boundaries. . .On one side there are things we must or can't do. The same boundaries are supposed to define and protect a dry ground of freedom where you can do whatever you want."
It is that "dry ground of freedom" that Howard wants to foster.
"You can't accomplish things if you're self-conscious," he said."A pianist can't play a piece if she's thinking about hitting the notes."
This fear has caused defensiveness in the health care system, Howard said.
The Institute of Medicine has shown that distrust in the justice system has so chilled professional communication in hospitals that at least a thousand deaths occur yearly because people don't speak up to challenge decisions, Howard said.
"We can't manage health care effectively until health care providers focus on what's right for patients instead of protecting themselves," he said.
Howard said that "the canary in the mine" in this area is the way we deal with children.
For example, in America, you can't put your arm around a crying child, Howard said.
"No one will do it. Who will defend you if someone says it was an unwanted touching?" Howard said."It will ruin your career - it has ruined people's careers."
Recently, running at recess was banned in Broward County, Fla. , schools because of 186 claims from playground accidents.
But according to research by Common Ground, it's not bad for kids to have these kinds of accidents.
"Accidents teach kids how to take responsibility for themselves," he said. It's also important for kids to be able to blow off steam, he added.
Howard said that schools are drowning in the number of laws they have on the books.
"The gyroscope is completely broken when it comes to children," he said.
One New York City school had tens of thousands of legal requirements, so many that no one could ever know them all, Howard said. This in turn creates distrust in the system and affects the teachers' ability to control the classroom.
"The rise of disorder is directly correlated with the rise of due process," Howard said.
Students believe the teacher can't make a choice unless the teacher can prove it in a hearing, he said. Neither students nor teachers believe teachers have authority, which leads to less learning, he said.
"Forty-three percent of high school teachers in America say they spend more time maintaining order than teaching," Howard said.
According to Howard, 78 percent of middle and high school teachers in America have been threatened by lawsuits by their students.
"Authority is essential to freedom," and is necessary for judges to be able to toss out unreasonable claims and for teachers to maintain order, he said.
Founded in 1819, the University of Virginia School of Law is the second-oldest continuously operating law school in the nation. Consistently ranked among the top law schools, Virginia is a world-renowned training ground for distinguished lawyers and public servants, instilling in them a commitment to leadership, integrity and community service.