Conference to Focus on Nature of Evidence
The Law School's Law and Humanities Program is sponsoring a conference on scholarly methodologies and the nature of evidence Friday and Saturday at Minor Hall at the University of Virginia and in the Law School's Caplin Pavilion.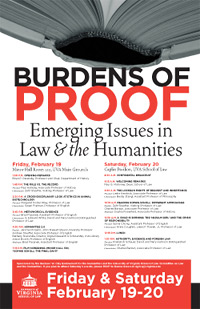 At "Burdens of Proof: Emerging Issues in Law and the Humanities," some of the University's leading scholars will explore what counts as evidence and how evidence is used as technology and the means of collecting information expand, explained conference co-organizer Zahr Stauffer, a visiting professor of law.
"The increasing turn to interdisciplinary modes of scholarship also plays a role in transforming existing standards of evidence in distinct disciplines," Stauffer said."The conference explores how such standards are developed, transformed and challenged in the study of subjects and objects as diverse as early modern judicial archives, animal bioethics, documentary films and digital databases."
Participants from the Law School include Stauffer, G. Edward White, Frederick Schauer, Anne Coughlin, Margaret Foster Riley, Leslie Kendrick and conference co-organizer Charles Barzun. University of Virginia participants include Jerome McGann, Susan Fraiman, Becky Stangl, Alison Booth, Sophia Rosenfeld, Paul Halliday, Brad Pasanek, Andrew Stauffer and Bethany Nowviskie from the disciplines of history, English and philosophy, and from the university library
Opening remarks will be made by Brian Owensby, chair of the Department of History, to start Friday's activities in Minor Hall Room 125, and by Law School Dean Paul Mahoney in Caplin Pavilion on Saturday.
On Friday night at 7:15 in Minor Hall 130, the conference will screen "Sophie Scholl: The Final Days," about a university student and her brother who were tried and executed for protesting Nazi censorship by distributing leaflets on campus. On Saturday a panel will explore different disciplinary approaches to analyzing the film, from philosophy and law to history and literature.
The conference is sponsored by the Buckner W. Clay Endowment for the Humanities and the University of Virginia School of Law Committee on Law and the Humanities.
The full schedule can be found here.
Founded in 1819, the University of Virginia School of Law is the second-oldest continuously operating law school in the nation. Consistently ranked among the top law schools, Virginia is a world-renowned training ground for distinguished lawyers and public servants, instilling in them a commitment to leadership, integrity and community service.