Virginia Journal of International Law Marks 50th Anniversary
This year is the half-century anniversary of the Virginia Journal of International Law, the oldest continuously published student-edited international law journal in the country.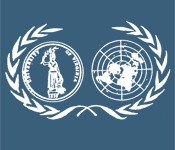 "The students do outstanding work on their notes, and the quality of the articles published in the journal rival that of articles published in any journal in the United States or around the world," said Professor John Norton Moore, an expert in international law."They should certainly be congratulated on their 50th anniversary."
To celebrate, the journal is hosting a banquet at the Rotunda on Friday, and is publishing a special commemorative letter and commemorative essay in each issue this year. Dean Paul Mahoney wrote the letter for the year's first issue and Professor A.E. Dick Howard wrote an essay on comparative constitutionalism.
"The letters are typically a retrospective look at the journal over the past 50 years and where international law was then and where it's headed," said Demetra Karamanos, the journal's editor-in-chief for 2009-10, who also wrote about the anniversary in an editor's note."They also cover the contributions that the journal has made to international law studies and what practitioners have learned about these global issues."
The anniversary banquet Friday in the dome room of the Rotunda on main Grounds will begin at 6 p.m. and will feature Professor Jack Goldsmith of Harvard Law School.
"Professor Goldsmith is a member of our board of advisors and a former faculty member at Virginia Law," said Alexander Berrang, who coordinated the event."He recently published a book titled 'The Terror Presidency,'which is about his experiences as head of the Office of Legal Counsel from October 2003 to June 2004."
During the journal's existence, international law has changed from an interesting scholarly exercise to a subject area that has real-world implications, Karamanos said, and the journal has been a part of that evolution.
"I think it is certainly very widely read and followed by international lawyers around the world," Moore said."It's an extraordinarily excellent journal with very high standards and is highly regarded within the field, as is appropriate for the focus that Virginia gives to the field of international law generally."
Karamanos said the journal's content runs the gamut in terms of subject material and has implications both domestically and internationally.
"I think some of the articles definitely play a role in shaping policy when practitioners, especially at the State Department, read our articles for background information regarding a particular topic," she said."Academically, I think we're helping to shape the field. I think that the hard work of our staff is really accomplishing something, which makes me very happy."
Professor Paul Stephan said he recalls two symposia in particular that have had significant impacts on the judiciary and on academic debate.
"A symposium on unification and harmonization of international commercial law, published in 1999 and organized by Jack Goldsmith, Steve Walt and myself, has had a significant impact on scholarly discussion by introducing mainstream contract theory to the field of international commercial law," Stephan said."The articles published in that symposium have been widely cited and in some cases even generated new symposia."
In addition, a symposium organized by former Virginia Law professor Curt Bradley and published in 2002 on the federal courts and foreign affairs has been cited by many courts, including the Supreme Court, and has provoked ongoing scholarly discussions, Stephan said.
Virginia's international law faculty also provide great insight into the field, both through course work and by bringing in speakers and organizing events on international law topics, Karamanos said.
"I think we have one of the best programs out there and the faculty is really involved," she said."I get e-mails from faculty members regarding projects they are doing and speakers they are having in. They draw in big names and allow students to meet these people that I never in my wildest dreams would have thought to meet. I think it's great to come home and say 'Mom, guess who I met today?'"
The journal's next issue, the third of the year, is scheduled to be published this month.
Founded in 1819, the University of Virginia School of Law is the second-oldest continuously operating law school in the nation. Consistently ranked among the top law schools, Virginia is a world-renowned training ground for distinguished lawyers and public servants, instilling in them a commitment to leadership, integrity and community service.