Allison Harnack '12: Civil Liberties, the EEOC and Pro Bono
My goal this summer is to immerse myself in several areas of the law and to gain as much legal experience as possible.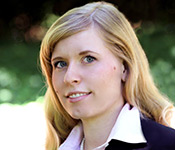 My full-time employer this summer is The Rutherford Institute - a civil liberties legal organization located here in Charlottesville. They provide direct legal assistance to clients whose civil rights have been violated and amicus support in cases that implicate important constitutional issues. The internship program attracts students from law schools across the country and worldwide. Interns communicate with clients, conduct legal research and assist staff attorneys with appellate and amicus briefs. Each intern is also assigned to a project group and is responsible for a long-term research assignment. I am researching the intersection between the Fourth Amendment and the new technologies that are redefining the traditional meaning of "search and seizure." The end goal for our group is to develop a proposal that will help to shape future litigation strategy and legislative reform.
I am also taking on a variety of pro bono projects. In the two weeks following finals and prior to starting my internship at Rutherford, I put in over a hundred hours working with an attorney on a petition for writ of certiorari in a case challenging a large forfeiture under the Excessive Fines Clause of the Eighth Amendment. The attorney received the case from the client's previous counsel less than three weeks before the filing deadline so we needed to work day and night to fully research the issues and present the most effective arguments possible. It was a fascinating case and the experience really stimulated my interest in Supreme Court practice.
I am also working on a continuing basis throughout the summer with the Federal Public Defender Office for the Eastern District of Virginia. The AFPD I am working for gives me a variety of substantive research assignments and often asks for my input on case strategy. I like the work because each project allows me to explore a new area of law and further hone my research skills, and I find that even the most mundane topics become interesting when I know that a client is depending on me.
Finally, I am working as a research assistant to Professor Greg Mitchell. My current project is an ongoing study related to the terms and implementation of Equal Employment Opportunity Commission consent decrees, which are settlements that companies enter into with the EEOC when there has been an accusation of discrimination. Currently, I am organizing the data that was gathered last summer. Once that is completed I will be contacting the companies directly to determine whether or not the EEOC enforced the decree and what actions were taken. Later this summer I will work on additional projects, including a study that proposes to measure how effective jury members are at determining whether a witness is lying on the stand.
I'm happy to have so many opportunities this summer to engage in such different areas of the law. It is kind of exhausting, but at the same time it is very satisfying to be able to both use and build upon the knowledge I acquired during my first year.
Founded in 1819, the University of Virginia School of Law is the second-oldest continuously operating law school in the nation. Consistently ranked among the top law schools, Virginia is a world-renowned training ground for distinguished lawyers and public servants, instilling in them a commitment to leadership, integrity and community service.