U.S. Attorney Heaphy: Public Service Offers Chance to Make Impact
Public service offers a kind of satisfaction that only comes from working for the greater good, U.S. Attorney Timothy Heaphy said Friday at the Law School.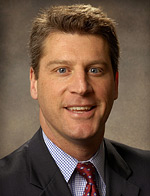 "The things that I have done in my career that have been the most satisfying have been the things that had impact," he said.
Heaphy, a 1991 graduate of the Law School who serves the Western District of Virginia, delivered the keynote address at the 12th Annual Conference on Public Service and the Law, which brought together students, faculty, attorneys and policymakers to explore public interest issues and related career paths for young attorneys.
A public service lawyer can impact lives in a way that's difficult to match elsewhere, he said. Heaphy, a former assistant U.S. attorney, recalled prosecuting a man accused of beating a woman with a lead pipe.
The victim, a heroin addict, had refused her apartment manager's attempts to extort her in exchange for a break on the rent. He'd beaten her with a lead pipe, breaking her arms as she raised them to defend herself, Heaphy said. The victim testified in the case, and the man was convicted.
As they walked out of the courtroom, the victim was shaking and crying and turned to give Heaphy a hug. "She said 'No one has ever cared about me. Nobody has paid attention to me until now, until this case,'" Heaphy said. "I knew at that moment that I was in the right line of work."
Heaphy advised students interested in public service careers to value excellence and experience in whatever they do, as opposed to concentrating only on checking boxes in the pursuit of career goals.
He said young lawyers and law students often ask him what they should do to become assistant U.S. attorneys. "I always give the same answer. I say: Be excellent at whatever you do. Be good at it. It doesn't matter if you go to a local prosecutor's office, or if you go to a law firm or you hang a shingle," he said.
The experience that best prepared him for his current job was a year spent teaching high school English in Washington, D.C., after he graduated from college, Heaphy said.  
"I didn't do it because I thought that would build a skill to get me into law school or help me try cases, but the experience that I gained in that job I now realize was very practical," he said. "I stood up in front of an audience of young people, a somewhat skeptical audience, and I had to convince them to listen to me, to pay attention to me — that what I was saying was persuasive, was credible — much like I do as a trial lawyer."
There's also a clarity of purpose that comes with working in public service that can be missing in other areas of practice, he said. Though it's important for all lawyers to appreciate nuance and to consider all of the positions in a case, public service work often affords lawyers the chance to do what they believe is right, as opposed to what is in their client's best interests.
"It's more satisfying, I suggest, to — while understanding both sides — take a position, particularly a position on which you feel strongly. Public service law allows you to be an advocate for a cause, for a movement, for something larger than yourself," he said. 
Heaphy recalled interviewing an admitted drug dealer during a case in Washington, D.C., when he was still an assistant U.S. attorney.
Investigators had executed a search warrant and seized a large amount of marijuana. A man arrested at the drug house had revealed his supplier to police, leading to more arrests and seizures.
During an interview with Heaphy and another prosecutor, the man kept rubbing his shoulder. When asked, he said it hurt from where officers had picked him up and dropped him while handcuffed.
"He said it as if that was just what happens," Heaphy said. "He wasn't complaining about it, but we were concerned about those facts."
It was a clear matter of right and wrong, Heaphy said. He and his colleague confronted the officers, who admitted their conduct, then dropped the charges against both the man and the dealers his information led to. The officers were suspended, and though Heaphy and his colleague faced anger from police, he said he was able to follow his conscience.
"When you are in public service law, you have the opportunity to say 'This is one of those situations. I'm on the side of the angels,'" he said.
Founded in 1819, the University of Virginia School of Law is the second-oldest continuously operating law school in the nation. Consistently ranked among the top law schools, Virginia is a world-renowned training ground for distinguished lawyers and public servants, instilling in them a commitment to leadership, integrity and community service.