Brinton Lucas '11 Named Solicitor General's Office Bristow Fellow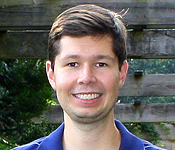 Brinton Lucas, a 2011 graduate of the University of Virginia School of Law, has been named a Bristow Fellow for the Office of the Solicitor General, one of the most prestigious positions available to recent law school graduates.
As a Bristow Fellow, Lucas will work for one year, assisting Office of the Solicitor General attorneys in drafting briefs in opposition to certiorari filed against the government in the U.S. Supreme Court, preparing petitions for certiorari and briefs on the merits in Supreme Court cases, assisting in the preparation of oral arguments in the Supreme Court, and monitoring cases in lower courts for appeal.
Lucas said his time at the Law School's Supreme Court Litigation Clinic was particularly helpful in attaining the fellowship.
"I thankfully was able to work pretty heavily on a number of cases at both the cert and merits stage, and I hope these experiences will serve me well next year," he said.
Lucas, who is currently clerking for Judge J. Harvie Wilkinson III '72 of the 4th U.S. Circuit Court of Appeals, will begin working at the Office of Solicitor General next summer after his clerkship with Wilkinson ends in June.
"Right now, I'm thinking about pursuing a career in either appellate advocacy or legal academia down the road. The Bristow should be great for both," he said. "It will be a chance to work with incredibly talented lawyers on some of the most interesting cases out there. It's a really exciting and humbling prospect."
Notably, Lucas won the prestigious Judge John R. Brown Scholarship Foundation's 2011 Brown Award for Excellence in Legal Writing last month for a note published in the Virginia Law Review titled "Structural Exceptionalism and Comparative Constitutional Law."
Virginia Law professor A.E. Dick Howard, who served as an adviser to Lucas while at the Law School, called Lucas "exceptional."
"Even among our top graduates, Brinton Lucas is exceptional," he said."His law review note marks him as a promising scholar.Now clerking for Judge J. Harvie Wilkinson, Brinton is on the brink of a brilliant legal career.Being chosen for the highly competitive Bristow Fellowship is yet further evidence of what is to come for this remarkable young lawyer."
Lucas said he was grateful to the faculty, the directors of the Supreme Court Litigation Clinic, and Judge Wilkinson for everything they've done to make this opportunity possible."
Founded in 1819, the University of Virginia School of Law is the second-oldest continuously operating law school in the nation. Consistently ranked among the top law schools, Virginia is a world-renowned training ground for distinguished lawyers and public servants, instilling in them a commitment to leadership, integrity and community service.