Lucas '11 Wins Brown Award for Legal Writing
A note in the Virginia Law Review by Brinton Lucas '11 has been honored with a prestigious national award for excellence in legal writing.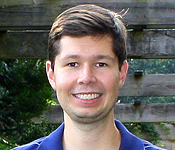 Lucas' paper, "Structural Exceptionalism and Comparative Constitutional Law," which was published in December 2010, was awarded the Judge John R. Brown Scholarship Foundation's 2011 Brown Award for Excellence in Legal Writing. The award carries a $10,000 prize.
In the article, Lucas critiques the U.S. Supreme Court's reliance on other countries' constitutional law in some of its recent opinions.
It's an exceptionalist argument," he said, "The American Constitution is different from these other countries' constitutions on a basic structural level due to its relative lack of institutional constraints on the judicial branch."
Lucas argues that the framers of foreign constitutions designed their charters to accommodate a significant amount of judicial policy-making by building in democratic controls over their judiciaries. In contrast, the structures of the U.S. Constitution are the product of different assumptions, namely that the judicial branch should be confined to the realm of law rather than policy.
"The argument boils down to that when members of the Supreme Court rely on these opinions, they're not considering them within their proper context," he said. "For example, foreign jurists feel more free to issue sweeping opinions because there are more democratic checks on their authority."
The Supreme Court, he argued, should avoid relying on other nations' constitutional courts.
"My position is that due to these structural differences, I don't think that it's a wise enterprise," he said.
Lucas, who is currently clerking for Judge J. Harvie Wilkinson III '72 of the 4th U.S. Circuit Court of Appeals, became interested in the topic while researching comparative constitutionalism for Virginia Law professor A. E. Dick Howard during the summer of 2009. He decided to write the paper in the fall of his second year at UVA and Howard served as his adviser.
"Brinton tackles an important topic, one of special interest both in the courts and in the academy," Howard said. "He displays an understanding of comparative constitutionalism that would do justice to a seasoned scholar. Nicely framed, carefully researched and written with flair, Brinton's note tells us that his is a talent sure to make a mark in the world of legal scholarship."
Howard called the Brown Award "one of the most prestigious honors conferred upon law students in this country" and said Lucas' note "richly deserves" the recognition.
Lucas thanked Howard for his guidance and support as well as Virginia Law professor Caleb Nelson and the members of the Law Review for their helpful feedback throughout the process.
Founded in 1819, the University of Virginia School of Law is the second-oldest continuously operating law school in the nation. Consistently ranked among the top law schools, Virginia is a world-renowned training ground for distinguished lawyers and public servants, instilling in them a commitment to leadership, integrity and community service.