Conference to Focus on Increasing Diversity in the Legal Profession
NAACP General Counsel Kim Keenan '87, two Virginia Supreme Court justices and a number of high-profile lawyers and civil rights activists will participate in a conference on increasing diversity in the legal profession hosted by the University of Virginia School of Law on Nov. 10-12 in Caplin Pavilion.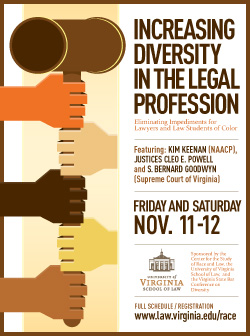 Designed to bring together students and lawyers to discuss concerns facing law school students and administrators, the community and practicing attorneys, the conference is free and open to the public with registration.
"Although most all would agree with Justice O'Connor's opinion in Grutter that having a diverse law school and bar is beneficial for both the profession and our society, in the years since the opinion, significant progress in increasing diversity in law schools and the bar has not been achieved," said University of Virginia law professor Alex M. Johnson Jr., who organized the conference and serves as director of the Law School's Center for the Study of Race and Law. "This conference addresses the impediments to diversification and what can be done to lessen or remove them."
The event will kick off with a talk by Virginia Supreme Court Justice Cleo Powell on "Justice? Unlikely!" at 5 p.m. on Thursday, Nov. 10, followed by a reception. Powell, who was elected to her current post in July, is the first African-American woman to serve on the Virginia Supreme Court bench and a 1982 graduate of the School of Law.
Following an introduction by Law School Dean Paul G. Mahoney and Johnson, Friday's events will focus on increasing diversity in law schools, with panels on the current debate to eliminate the LSAT as part of the admissions process (the American Bar Association currently requires that a validated test be used to evaluate applicants), the law school experience and the detrimental impact of state bar exams on prospective lawyers of color. Keenan, who was named general counsel of the National Association for the Advancement of Colored People in March, will deliver the keynote address, "Pro Bono and Professionalism: Keys to a Winning Career," at 6:15 p.m.
On Saturday, participants will focus on diversity in legal practice, with panels on how lawyers can reach out to the community to create interest in the law, mentoring, and best practices by law firms who have increased diversity in their ranks. Virginia Supreme Court Justice S. Bernard Goodwyn, a 1986 Law School alumnus, will deliver a lunch-time address on the value of diversity on the bench at 12:30 p.m. in the Purcell Reading Room. The conference will conclude with remarks by Johnson and Clarence Dunnaville Jr., an attorney and civil rights activist who has focused on promoting diversity in the corporate workplace.

Full Coverage
Founded in 1819, the University of Virginia School of Law is the second-oldest continuously operating law school in the nation. Consistently ranked among the top law schools, Virginia is a world-renowned training ground for distinguished lawyers and public servants, instilling in them a commitment to leadership, integrity and community service.