Gantt '11 to Clerk for Justice Breyer
Rebecca Gantt '11 will clerk for U.S. Supreme Court Justice Stephen Breyer in the 2012-13 term.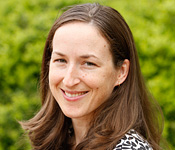 "I feel quite lucky," Gantt said. "It's obviously going to be challenging work, but I expect working on the cases to be really fascinating."
Gantt is currently four months into her clerkship with Judge Michael Boudin of the 1st U.S. Circuit Court of Appeals in Boston, a job which will end in June. Her Supreme Court clerkship begins in July.
I've really enjoyed being in chambers working closely with the judge and my three other co-clerks, so I'm looking forward to the [Supreme Court] experience," Gantt said.
But she said a close call nearly complicated her big opportunity: "Justice Breyer called our chambers during a work day to offer me the clerkship. My co-clerk picked up the chambers phone line, but we couldn't figure out how to transfer the phone call to my desk, so the justice was on hold for quite a while. I was very glad that he still offered me the job despite my poor technological skills!"
A Harvard University graduate, Gantt served as articles editor of the Virginia Law Review at the Law School, and served two terms as a board member of the Public Interest Law Association.
Prior to attending Virginia Law, she served in the Navy for five years as a surface warfare officer.
Gantt said her clerkship with Boudin has been a good experience for understanding a judge's expectations and thought process. She said it also has been a learning process in terms of her own expectations.
Some arguments appear very difficult initially and then end up being fairly easy to resolve, while others that seem straightforward on their face have become quite challenging to work through," She said.
Having lived the last two summers in Washington and grown up in central Virginia, her next step will take her back closer to where her life started, she said, and where she plans to eventually put down permanent roots.
Four Virginia Law graduates are currently clerking for U.S. Supreme Court. (More news about Virginia's Supreme Court clerks)
Founded in 1819, the University of Virginia School of Law is the second-oldest continuously operating law school in the nation. Consistently ranked among the top law schools, Virginia is a world-renowned training ground for distinguished lawyers and public servants, instilling in them a commitment to leadership, integrity and community service.