Faculty Panel to Review Supreme Court's Past Term
In an annual tradition, University of Virginia law professors will recap the most important decisions of the U.S. Supreme Court from this past term on Wednesday at 5 p.m. in Caplin Pavilion.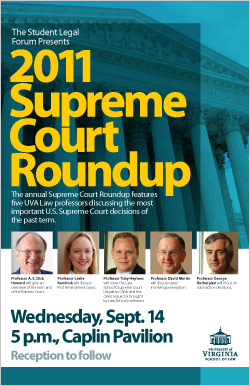 Professor A. E. Dick Howard will offer opening remarks, discussing the history and trends of the court under Chief Justice John Roberts. Following Howard's remarks, the event will be broken into four categories, with one professor covering each.
Professor Leslie Kendrick will discuss First Amendment cases, including Brown v. Entertainment Merchants Association, which dealt with prohibitions on violent videogames; and Snyder v. Phelps, which focused on protests at funerals.
Professor Toby Heytens will cover the Law School's Supreme Court Litigation Clinic and the cases argued or brought by Law School professors.
Professor David Martin will discuss cases involving preemption, including U.S. Chamber of Commerce v. Whiting, which involved immigration; Pliva v. Mensing, which dealt with generic drugs; and Williams v. Mazda, which involved seat belts.
Professor George Rutherglen will focus on class-action decisions, including a high-profile case involving Wal-Mart Stores Inc., as well as AT&T Mobility v. Concepcion.
Sponsored by the Student Legal Forum, the panel will be followed by a catered reception.
Founded in 1819, the University of Virginia School of Law is the second-oldest continuously operating law school in the nation. Consistently ranked among the top law schools, Virginia is a world-renowned training ground for distinguished lawyers and public servants, instilling in them a commitment to leadership, integrity and community service.