Top 10 UVA Law Stories of the Year
The University of Virginia School of Law marked 2011 with a number of firsts — from the Innocence Project Clinic helping to overturn a death penalty sentence to a record-breaking auction for public service grants. Here are the top news stories of the year.


Supreme Court Hears Record Four Clinic Cases
The Law School's Supreme Court Litigation Clinic has made headlines in a number of cases since launching in 2006, but this year offered a watershed moment for the clinic's participants, as the Supreme Court heard a record four cases brought in one term by clinic clients, resulting in some potentially landmark rulings. Clinic instructors Dan Ortiz and Mark Stancil also made oral arguments in two cases on the same day.
In Borough of Duryea v. Guarnieri, a near-unanimous court ruled that public employees can't sue under the First Amendment's petition clause for alleged retaliation unless the underlying dispute implicates a matter of public concern (More). The court unanimously agreed in Nevada Commission on Ethics v. Carrigan that legislative recusal rules do not infringe on personal free speech rights (More). The clinic earned a partial victory in Fox v. Vice, involving a lawsuit alleging civil rights violations (More). The court ruled also heard Professor Jim Ryan argue Abbott v. United States in October 2010, which involved federal sentencing for crimes involving firearms.


Innocence Clinic Helps Overturn Man's Death Sentence, Convictions; Appeals Case for Juvenile Convicted of Rape
The Innocence Project Clinic made significant progress in two cases students and instructors had worked on for years. In July a federal judge threw out the murder-for-hire conviction and death sentence of Northern Virginia man Justin Wolfe (More), and in August, the judge overturned Wolfe's related drug and weapon convictions too (More).
The clinic is currently awaiting a ruling on whether their client can be freed, while the Virginia attorney general's office has indicated it will appeal to the 4th U.S. Circuit Court of Appeals. The judge who vacated the convictions cited prosecutors' failure to turn over evidence that would have benefited Wolfe's defense team in the original trial.
"We're elated and gratified," said Deirdre Enright, director of investigation for the Innocence Project Clinic. "It's rare to get relief in death penalty cases and rarer still to lay it at the feet of prosecutors."
Alongside other partners, including the Child Advocacy Clinic, the Innocence Clinic is also working on the case of a teen who was convicted of rape at 15 and whose victim later recanted. The Virginia Supreme Court agreed in August to hear an appeal on whether the teen, Edgar Coker, can proceed with a lawsuit to have his sentence overturned. Coker is still on the state's sex offender registry, though the clinic helped earn him an early release from a juvenile correctional facility in 2009 (More).


Virginia Remains Among Top Schools for Producing Supreme Court Clerks
Virginia is tied for second among law schools nationwide in the number of alumni clerking for sitting U.S. Supreme Court justices in the 2011-12 term.
After Harvard, Virginia is tied with Yale and Stanford law schools, with four clerks each. When accounting for both active and retired Supreme Court justices, Virginia is tied for third with Stanford.
This is the third time since the 2006-07 term that Virginia has had four clerks at the Supreme Court. John Moran '10 and Donald Burke '08 are clerking for Justice Antonin Scalia, Mark Hiller '09 is clerking for Justice Sonia Sotomayor and Matt Nicholson '09 is clerking for Justice Clarence Thomas. All four were members of the Law School's Supreme Court Litigation Clinic.


Class of 2014 Most Competitive in School History
The 357 members of the Law School's entering Class of 2014 were selected through the most competitive application process in the school's history and boast the highest-ever median undergraduate grade-point average. Members of the class were chosen from a pool of 7,410 applicants, and yielded the school a new record-low acceptance rate of 9.3 percent. The class' record-high median GPA was 3.86, while its median LSAT score of 170 matched the previous year's entering class. (More)


Garrett's Study of DNA Exonerations Reveals Troubling Trends, Makes National Headlines
University of Virginia law professor Brandon Garrett became one of the nation's most-quoted experts on DNA exoneration, eyewitness misidentification and false confessions this year, following the publication of his book, "Convicting the Innocent: Where Criminal Prosecutions Go Wrong."
Garrett realized the extent of problems plaguing criminal courts during the course of his research into the first 250 people exonerated by DNA tests.
"The errors that repeated over and over again across the 250 cases were the result of bad barrels, and not a few bad apples. They resulted from unsound but systemic practices that allowed well-intentioned people to contribute to convicting the innocent," he said. (More)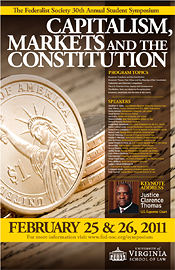 Law School Federalist Society Hosts Justice Clarence Thomas, National Meeting
As many as 800 conservative and libertarian lawyers visited the Law School and Charlottesville for the 30th annual Federalist Society student symposium in February. (More)
U.S. Supreme Court Justice Clarence Thomas delivered the keynote address at the Boar's Head Inn, and other speakers included federal appeals court judges Brett M. Kavanaugh (D.C. Circuit), Debra Livingston (2nd), Judge William H. Pryor Jr. (11th), Diane Sykes (7th) and J. Harvie Wilkinson III (4th). Dean Paul G. Mahoney and Professor Paul Stephan also participated in a panel on the role of the courts in an uncertain economic climate. (More)


U.S. Attorney General Eric Holder Delivers Commencement Address
The Class of 2011 should continue the legacy of leadership established by graduates such as Robert F. Kennedy '51, U.S. Attorney General Eric Holder said during commencement in May.
You made a critical choice, just as generations of UVA Law students have before you: to serve the cause of justice, and to dedicate yourselves to the principles that made our nation great and, surely, will guide our future progress," Holder said. As of today, you are no longer just students of the law. You are now stewards of our justice system." (More)

Laycock Argues for Ministerial Exception at Supreme Court
University of Virginia law professor Douglas Laycock made his third oral argument before the U.S. Supreme Court in October in a case concerning whether employees of religious organizations can sue for employment discrimination. Laycock, a leading expert on the law of religious liberty, is the counsel of record for a religious church and school in Michigan in the case, Hosanna-Tabor Evangelical Lutheran Church and School v. Equal Employment Opportunity Commission.
To evaluate these discrimination claims, courts would have to decide whether this person was discharged for being a bad minister or not," Laycock said. That is a decision, we think, that is committed to religious bodies and is beyond the authority of government and also just beyond its factual ability to evaluate it." (More)


Public Interest Supported in Tough Economic Times
The community stayed committed to public interest in the face of tough economic conditions. The Public Interest Law Association crushed its prior fundraising record with this year's auction, which is expected to net $70,000 for students working in public service jobs over the summer. In the spring, PILA distributed 81 grants worth $378,000. Students also shone through their own achievements in public service, as several obtained nationally renowned fellowships.
More:


Law School Team Bands Together to Overturn U.S. Ban on Women in Combat, Draft
A group of Law School students, a professor and a graduate have teamed up to win women the official right to serve in combat roles, and to qualify for the draft as well.
"Our goals are to gain official recognition for those women who have been placed in harm's way in the course of line of duty, and to expose a gender classification that is based on archaic stereotypes and is unconstitutional," said second-year law student Kyle Mallinak. "We don't just have to speculate about how women would perform in combat conditions. We know now that they've performed, and performed well." (More)
Founded in 1819, the University of Virginia School of Law is the second-oldest continuously operating law school in the nation. Consistently ranked among the top law schools, Virginia is a world-renowned training ground for distinguished lawyers and public servants, instilling in them a commitment to leadership, integrity and community service.