Hiller '09 to Clerk for U.S. Supreme Court Justice Sotomayor
Mark Hiller '09 will be the first University of Virginia School of Law graduate to clerk for U.S. Supreme Court Justice Sonia Sotomayor.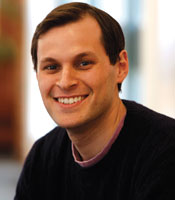 Hiller is the third Virginia graduate named to clerk for the court in the coming term, following a five-year period in which Virginia placed more clerks in the Supreme Court than any law school except Harvard and Yale.
"I'm excited and grateful for the opportunity," Hiller said. "It's an honor to contribute in even small part to the court's work."
Hiller was originally supposed to clerk for Sotomayor when she was on the 2nd U.S. Circuit Court of Appeals. Shortly after he graduated, she was nominated to be a justice on the Supreme Court.
Hiller instead clerked for the 2nd Circuit's Judge Robert D. Sack in New York, an experience he said was "very rewarding."
"Judge Sack is a wonderful mentor, and it was a privilege to work for him. I was also fortunate to work alongside great co-clerks. It was a remarkable experience," he said.
After his clerkship with Sack ended, Hiller joined the Washington, D.C., litigation boutique Robbins, Russell, Englert, Orseck, Untereiner & Sauber, where his former professor, Mark Stancil, a 1999 Law School graduate, is a partner. Stancil taught Hiller in the Supreme Court Litigation Clinic.
"There's a strong UVA contingent here," Hiller said. His Robbins Russell colleague Donald Burke—also an alum of the Law School and the Supreme Court Litigation Clinic—will clerk for Justice Antonin Scalia alongside John Moran '10, another clinic alum. More on Burke and Moran
Hiller's practice focuses on an array of matters, from white collar criminal defense to commercial litigation.
"It's a great experience, particularly for young lawyers, because it forces you to constantly reinvent yourself and learn new areas and new skills," he said. "It's a lot of fun to work at a small firm—you feel more invested in the outcome of your work."
Hiller recalled his time at Virginia fondly. "I'd do it again in a heartbeat," he said. "The faculty are genuinely interested in teaching, and the students have great camaraderie and help each other out. Plus, you get to spend three years in Charlottesville."
In addition to serving in the Supreme Court Litigation Clinic, where many clerks have gotten their start in Supreme Court matters in recent years, Hiller was a member of the Virginia Law Review. He also interned one summer for Judge Richard M. Berman in federal district court in New York, an experience Hiller said sparked his interest in clerking.
"Working for a judge is eye-opening. You not only see how litigation plays out in practice, but you learn to understand a court's perspective."
Outside of class, Hiller mentored underprivileged children in math, English and the occasional pick-up game through the student organization Action for a Better Living Environment.
"Sadly, they could beat me in basketball even though I was twice their age and height," he said. "But football was a different story."
A Long Island native who majored in government at Harvard University, Hiller had an early brush with a future professor when he worked for a year at the Brookings Institution after graduating. While there, he helped edit a book co-authored by Professor Dan Ortiz, who would later teach him civil procedure and in the Supreme Court clinic.
Ortiz said Hiller "demonstrated hard work, quiet determination and legal smarts."
"He also was someone who managed to get the best out of any team he was working on," Ortiz said.
Hiller said he's thrilled to join the court's clerks.
"On a personal level, I think it will be a fantastic learning experience. The Supreme Court exposes you to some of the best litigators and legal minds in the country, so the idea is to just soak in as much as I can before it's time to go," he said.
Founded in 1819, the University of Virginia School of Law is the second-oldest continuously operating law school in the nation. Consistently ranked among the top law schools, Virginia is a world-renowned training ground for distinguished lawyers and public servants, instilling in them a commitment to leadership, integrity and community service.