J.B. Moore 60th Anniversary Symposium Will Explore Rule of Law Friday, Feb. 18
The John Bassett Moore Society of International Law is celebrating its 60th anniversary with a symposium on the rule of law on Friday, Feb. 18, in Caplin Pavilion at the Law School. The event will bring together international law experts, attorneys and military leaders who have worked around the world on rule of law issues.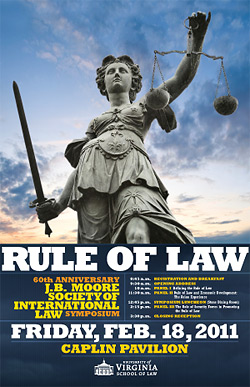 "Over the past several decades, policymakers and development experts have cited the rule of law as a solution to global problems such as economic stagnation and terrorism," said symposium director Emily Higgs. "However, uncertainty remains about what the rule of law means and how it works. This symposium will provide a forum for exploring these important questions and examine them from economic development and national security perspectives in particular."
The first panel, at 10 a.m., offers an exploration of the concept of the rule of law; the second panel, at 11:30, will examine whether the rule of law is a critical foundation for economic development, with a particular focus on China; and the final panel at 2:15 p.m. examines the role of security forces in promoting the rule of law (full schedule below).
The student-run J.B. Moore Society of International Law, founded in 1951, is the oldest student organization of its kind in North America. The organization sponsors speaker programs, an annual symposium, international moot court teams and an LL.M./J.D. buddy program.
Dues-paying members can register for dinner at Bashir's Taverna on Thursday, Feb. 17, and lunch in Stone Dining Room on Friday, Feb. 18 with panelists from the symposium and faculty. To reserve your position, e-mail eh7x@virginia.edu by 5 p.m. on Monday, Feb. 14, and specify in the subject of your e-mail whether you would like to attend lunch, dinner or both. To become a dues-paying member, write a $15 check to "J.B. Moore Society" and submit it to Brian Polley's mailbox or use Paypal and send payments to jbmsociety@yahoo.com.
All events are located in Caplin Pavilion except where noted.
8:45-9:30 a.m.
Registration and Continental Breakfast
9:30-10 a.m.
Opening Address
10-11:15 a.m. | Panel 1
Defining the Rule of Law
There is broad consensus over the importance of the rule of law, but far less agreement over how to define it and what it means in practice. This panel will provide an introduction to the concept of the rule of law by addressing the fundamental question of "What is the rule of law?" Is it most appropriately considered the realization of certain values and rights, or instead the development of a set of institutions and formal processes? Additionally, panelists will discuss the extent to which cultural concerns should be taken into account and different indicators that can be used to measure the effectiveness of a rule of law program.
11:30 a.m. -12:45 p.m. | Panel 2
Economic Development and the Rule of Law: The Asian Experience
Some argue that the rule of law plays an essential role in economic development because of the need for predictable and enforceable laws for contract enforcement and foreign investment. Multilateral institutions such as the World Bank and policymakers around the world have endorsed this idea by implementing legal and judicial reforms in their development agendas. This panel will examine using law and legal reform to stimulate growth, and consider whether the rule of law is indeed a critical foundation for economic development. Panelists will also discuss how economic growth in Asia conforms to these claims. For example, does China's success show that the economic development rationale for rule of law programs is flawed?
12:45-2 p.m.
Symposium Luncheon (Stone Dining Room)(registered guests)
2:15-3:30 p.m. | Panel 3
The Role of Security Forces in Promoting the Rule of Law
President Barack Obama's 2010 National Security Strategy states that "commitment to the rule of law is fundamental to our efforts to build an international order that is capable of confronting the emerging challenges of the 21st century." Furthermore, in dealing with nations that are at risk for conflict, it affirms that the administration will not only "undertake long-term, sustained efforts to strengthen the capacity of security forces to guarantee internal security," but will also promote "respect for human rights and the rule of law." The dual roles security forces can play as protectors of the peace and upholders of rights in countries transitioning out of conflict has received additional attention as a result of the U.S. military's involvement in Kosovo, Iraq and Afghanistan. This panel will discuss methods for establishing the rule of law in post-conflict societies and the challenges states face in developing and maintaining the rule of law when combating security threats.
Founded in 1819, the University of Virginia School of Law is the second-oldest continuously operating law school in the nation. Consistently ranked among the top law schools, Virginia is a world-renowned training ground for distinguished lawyers and public servants, instilling in them a commitment to leadership, integrity and community service.