Law School Symposium to Examine Controversial Supreme Court Campaign Finance Ruling
Political experts will gather at the Law School on March 19 to examine Citizens United v. Federal Election Commission, the divisive 2010 Supreme Court campaign finance ruling that affirmed the right of corporations to run independent political ads.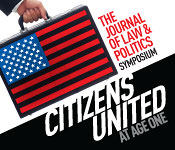 Donald McGahn, commissioner and former chairman of the Federal Election Commission, will deliver the keynote address at 11:45 a.m. in Caplin Pavilion as part of the symposium, "Citizens United at Age One," sponsored by the law student — run Journal of Law & Politics.
"The Supreme Court's decision in Citizens United v. Federal Election Commission was one of the most controversial decisions of the Roberts Court to date," said symposium editor Gary Lawkowski, a third-year law student. Soon after the ruling, President Barack Obama suggested during his State of the Union address that the decision opened the door to special interests and foreign corporations unduly influencing elections.
The 5-4 decision involved a case over whether the nonprofit corporation Citizens United could air a film that was critical of Hillary Clinton and whether the group could advertise the film in broadcast ads featuring Clinton's image in apparent violation of the 2002 Bipartisan Campaign Reform Act, commonly known as the McCain — Feingold Act.
The goal of this symposium is to re-examine the court's ruling in Citizens United with the benefit of one year's hindsight, and to explore the way it has shaped and influenced the electoral process, both in the experience of the 2010 midterm elections and in recent developments in federal election law," Lawkowski said.
The symposium also features panels critiquing Citizens United and exploring the impact of the decision on corporate expenditures in the 2010 midterm elections.
Panelists include Joseph Birkenstock, former chief counsel of the Democratic National committee; Trevor Potter, former general counsel to the John McCain 2008 presidential campaign; Marc Elias, former general counsel to the John Kerry presidential campaign; Michael Toner, former chairman of the Federal Election Commission; Adav Noti, FEC lead attorney for Citizens United ; and Lee Goodman, general counsel to the Republican Party of Virginia.
The event is open to the public and parking is available in Law School lots.
Saturday, March 19
Caplin Pavilion
9:45 a.m.
Breakfast
10 a.m.
Welcome and Opening Remarks 
John Jeffries, David and Mary Harrison Distinguished Professor of Law, University of Virginia School of Law Gary Lawkowski, symposium organizer
10:30 a.m.
Panel: A Summary and Critique of the Citizens United Decision
Joseph Birkenstock, Caplin & Drysdale, former chief counsel of the Democratic National Committee
Lee Goodman, LeClairRyan, general counsel to the Republican Party of Virginia
Adav Noti, litigation attorney, Federal Election Commission
Moderator: Lillian BeVier, David and Mary Harrison Distinguished Professor of Law, University of Virginia School of Law
11:45 a.m.
Lunch and Keynote Address
Donald McGahn, commissioner and former chairman, Federal Election Commission
1 p.m.
Panel: The Impact of Citizens United on Corporate Expenditures in the 2010 Midterm Elections
Marc Elias, Perkins Coie, former general counsel to the John Kerry presidential campaign
Trevor Potter, Caplin & Drysdale, former general counsel to the John McCain 2008 presidential campaign
John Samples, director of the Center for Representative Government at the Cato Institute
Moderator: John Norton Moore, Walter L. Brown Professor of Law, University of Virginia School of Law