Nicholson '09 to Clerk for Justice Thomas; Four Graduates Will Clerk at Supreme Court for Third Time in Six Years
Matt Nicholson '09 will clerk for U.S. Supreme Court Justice Clarence Thomas during the 2011-12 term, joining three other Virginia Law alums clerking at the nation's highest court.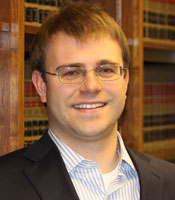 It will be the third time since the 2006-07 term that Virginia has had four clerks at the Supreme Court.
I'm very grateful for this opportunity," Nicholson said. It will be a tremendous honor to work with the justice and a great set of co-clerks."
Nicholson, originally from Tallahassee, Fla., interviewed for the position last summer with the justice's current clerks and then with Thomas himself.
Later that day, I received a call from one of the clerks offering me a position for the 2011 term," he said. It was a very pleasant surprise."
Nicholson also attended the University of Virginia as an undergraduate, and is currently a Bristow Fellow in the Office of the Solicitor General, working on behalf of the federal government on Supreme Court cases.
It's a great job," he said. The work is very challenging, and I've had the chance to learn from some of the best lawyers in the country."
Prior to the fellowship, Nicholson clerked for Judge J. Harvie Wilkinson III '72 on the 4th U.S. Circuit Court of Appeals. Judge Wilkinson is a terrific writer, a wonderful judge, and on top of that a great mentor," he said. He was enormously helpful along the way."
Professor Caleb Nelson taught Nelson in two classes, Legislation and Federal Courts, and said he was an extraordinarily impressive" student.
He understands all the moving parts in any argument, and he thinks about them rigorously and honestly; he cares deeply about getting things right," Nelson said. He'll be a star as a clerk just as he was a star throughout his years at UVA."
Nicholson credited the Law School's faculty, its alumni, and especially his wife, Allison Barra Nicholson '09, for support throughout the application process. He said he's unsure what he'll do following the clerkship, but will likely enter private practice.
Three other Law School graduates will serve as Supreme Court clerks during the 2011-12 term: John Moran '10 and Donald Burke '08 will clerk for Justice Antonin Scalia, and Mark Hiller '09 will clerk for Justice Sonia Sotomayor. Like Hiller, Burke and Moran, Nicholson is a former member of the Law School's Supreme Court Litigation Clinic, which he said helped him develop his brief-writing skills.
The clinic was an invaluable way to get practical experience while still in law school. The lessons I learned in the clinic have served me well both as a law clerk and as Bristow Fellow," he said.
Nicholson said he hopes his time as a Supreme Court clerk will be a great learning experience, and said he looks forward on a personal level to working for Thomas.
By all accounts, Justice Thomas treats his clerks like an extension of his family and is a wonderful person to work for," Nicholson said. I think it's going to be a great year, and I'm very thankful to everyone who made this opportunity possible."
Nicholson was the 2009 winner of the Rosenbloom Award, established by Daniel Rosenbloom '54 to honor a student with a strong academic record who has significantly enhanced the academic experience of other law students by volunteering support and assistance to them.
Founded in 1819, the University of Virginia School of Law is the second-oldest continuously operating law school in the nation. Consistently ranked among the top law schools, Virginia is a world-renowned training ground for distinguished lawyers and public servants, instilling in them a commitment to leadership, integrity and community service.