Piacenti to Lead Virginia Law Review
Second-year law student R. Kent Piacenti was named the new editor-in-chief of the Virginia Law Review this weekend. The Virginia Law Review is the most prestigious student-run journal at the Law School and publishes eight times a year.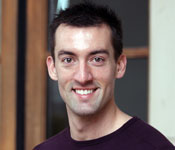 Hometown: Dallas
Prior education: B.A. in music (voice) from the University of California at Irvine
Prior work experience: After college, I taught music for six years — first as a private voice teacher to high school students and then as a general music teacher in a public elementary school.
Future career plans: I hope to spend a year or two clerking in a federal court and then return to Dallas and join the litigation department of Vinson & Elkins. I would also like to leave the door open to doing academic work at some point.
Favorite law class or subject: I'm particularly interested in how the law regulates personal relationships — specifically how it affects the formal and informal familial relationships of gays and lesbians. Classes I have taken that touch on this topic include Constitutional Law, Family Law and Immigration Law.
Extracurricular activities at the Law School: Lambda Law Alliance, the Virginia Environmental Law Journal, the Public Interest Law Association
Advice for students who want to make Law Review: I recommend giving the journal tryout as much time and attention as you reasonably can. Don't make other plans that would take time away from the tryout, but be sure to take care of yourself. Give yourself a break by going to the gym. Eat well, and get a good night's sleep. Remember that if you don't make it by grading on" or through the tryout process, you will still be invited to join if the Law Review accepts a note that you have written. Finally, keep in mind that there are many valuable activities to do at UVA Law and that many people each year secure their dream jobs without being on the Law Review.
Goals for the Virginia Law Review in the coming year: Our main goals for the year are to publish the highest-quality legal scholarship, to continue the work of the previous managing board in improving our alumni relations and to position our organization so that the Class of 2013 will have the widest possible range of options to commemorate the 100th anniversary of the Virginia Law Review.
Founded in 1819, the University of Virginia School of Law is the second-oldest continuously operating law school in the nation. Consistently ranked among the top law schools, Virginia is a world-renowned training ground for distinguished lawyers and public servants, instilling in them a commitment to leadership, integrity and community service.