Thomas Byrne '84 on Pioneering in Biotechnology and Intellectual Property Law
Where are you currently working?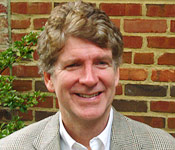 I currently consult with four start-up pharmaceutical companies. Although I consult in a variety of areas for the companies, my expertise is intellectual property law. I am happy to say that one of those companies is located in Charlottesville (Diffusion Pharmaceuticals). I also am involved in several real estate projects.
You have undergraduate degrees in chemical and nuclear engineering and a master's in biochemical engineering. Did you enter law school with the intent to work on in the biotechnology field?
I did not know when I was in law school that I would be working in the biotechnology field since it was during the period I was in law school that the first biotechnology companies were forming. I did, however, know while I was in law school that I wanted to find an area of law where I could utilize my education in science, such as IP law, environmental law or products liability law.
You have been recognized as a co-inventor of Amgen's blockbuster drug Aranesp. What does the drug do and how did you become involved in its development?
Aranesp is an erythropoiesis stimulating agent, i.e., a compound that stimulates the production of red blood cells in the body. It is used for various types of anemia, including anemia due to kidney failure. It is also used as an adjunct to chemotherapy to restore levels of red blood cells that have been knocked down due to the chemotherapy.
I was involved in writing several patent applications at the time. I was immersed with multiple groups of scientists in the science of Amgen's first blockbuster drug erythropoietin, also known as Epogen or Epo. One day I was chatting with one of those researchers about some recent data that had been developed at the company and I made a proposal as to how to alter the structure of erythropoietin to make it a better therapeutic. My co-inventor stated that he had several ideas as to how to achieve my general concept. We then added the new invention to an application we were preparing at the time. That researcher spent the next few years in the lab working on the project until he had arrived at the Aranesp molecule, which then went into clinical trials. It was approved by the FDA in 2001.
How did your time at Virginia Law prepare you for your career?
My time at Virginia Law helped me in a variety of ways. Obviously, I, as does anyone who graduates from the school, received an excellent legal education, including learning how to approach a legal issue (which, as I learned, is quite different from how to approach a science or math issue). Further, because UVA Law School is such a social school, one cannot help but become more social and comfortable working with other people in a variety of settings. The ability to get along with people and communicate well is very important in career development. This aspect of the Law School was invaluable to me. Lastly, the honor system played a role for me in emphasizing the importance of honesty and responsibility. I cannot emphasize enough the critical role trust plays in the business world.
What advice would you offer to current Virginia Law students who are interested in patent work or working in the biotechnology field?
The biotechnology/pharmaceutical field is still moving very rapidly, is fascinating and offers many opportunities for someone with a science background and a good legal education. I recommend finding a job in an IP law firm or corporation that does plenty of work in the area, and that has at least one attorney that will spend time with (mentor) someone new to the field to help him or her develop an understanding of the field and how to address the various IP issues that companies face in this field.
What was one of your favorite Law School classes, and why?
The Intellectual Property course that my father [former adjunct lecturer John J. Byrne, now retired as a partner from Baker & McKenzie] taught while I was at the Law School was my favorite and, no, I did not get an A!
Founded in 1819, the University of Virginia School of Law is the second-oldest continuously operating law school in the nation. Consistently ranked among the top law schools, Virginia is a world-renowned training ground for distinguished lawyers and public servants, instilling in them a commitment to leadership, integrity and community service.