Chad Farrell '07 on Frontier of International Law at World Court
Where do you work?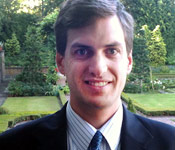 I work at the International Court of Justice in The Hague. Also known as the World Court, the ICJ hears civil (noncriminal) cases between countries. It is part of the United Nations, and is open to all U.N. member countries. The court also issues advisory opinions upon request from U.N. bodies such as the General Assembly. I work directly for one of the judges at the court, so my job is similar to a long-term judicial clerkship.
What sort of legal issues do you work on at the International Court of Justice?
Depending on the case, I can work on almost any issue of public international law. Boundary disputes and disputes over the interpretation of treaties are some of the most common types of cases that come before the court. There are also disputes relating to human rights law, the use of force and international environmental law. There are other types of cases too: One of the most well-known cases that the court has heard in recent years concerned the legality of Kosovo's unilateral declaration of independence.
How is working in an international forum different than other types of legal practice?
Besides the fact that the substantive law is different from domestic law, the biggest difference is the research process.There are very few international courts out there, which means that for many issues there is very little precedent. In one sense, it is exciting because there are so many issues of first impression. In another sense, it is a bit daunting because I frequently have to extrapolate from existing cases, research academic articles and even deduce "general principles of law" from the domestic jurisprudence of courts around the world. It's very different from being able to go on to Westlaw or Lexis and find a clear answer.
How did your time at Virginia Law prepare you for your legal career?
Virginia Law has a great international law program, and the international law — related courses that I took with John Norton Moore, John Harrison and A.E. Dick Howard certainly helped prepare me for my current position at the ICJ. In addition, the many international law — related lectures and symposia at the Law School helped me realize that international law was something that I wanted to explore further.
What advice would you offer to current Virginia Law students interested in international law?
International law is a tough field to break into because it is relatively small. I would say take lots of international law classes, join the J.B. Moore Society (the Law School's international law student group), write an international law — related article or two if you can, and be on the lookout for international law — related internships and clerkships. There are a number of courts in The Hague that offer internships, and the United Nations in New York offers some options as well. There are also some organizations and think tanks in Washington, D.C., that are internationally focused.
What was one of your favorite Law School classes, and why?
Criminal Investigation with Anne Coughlin. It was not related to international law in any way, but it dealt with the fascinating constitutional rules surrounding police search-and-seizure abilities.It's also an area of law that's still very much evolving. Plus, Professor Coughlin loved the subject. When she got really excited about a point someone made in class, she would literally start jumping up and down. Her enthusiasm was infectious.
Founded in 1819, the University of Virginia School of Law is the second-oldest continuously operating law school in the nation. Consistently ranked among the top law schools, Virginia is a world-renowned training ground for distinguished lawyers and public servants, instilling in them a commitment to leadership, integrity and community service.