Afi Johnson-Parris '02 Makes Jump to Family Law Practice
Afi Johnson-Parris '02, a Greensboro, N.C., family law practitioner, discusses her career, offers advice for current students and recalls her Law School experiences.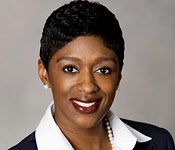 Where are you working and what kind of law do you practice?
I've had a divorce and family law solo practice since December 2008.
What is a typical day like for you?
I normally start with a case review with my paralegal to determine what the status is in ongoing cases and what needs to be done for the day. I typically will meet with potential clients in a consultation throughout the day or work on cases of current clients by making phone calls, responding to emails, drafting letters, court pleadings or affidavits.
How did your time at Virginia Law prepare you for your career?
Academically, I would say that evidence, trial advocacy, research and writing, professional responsibility and civil procedure are the classes that I use most. I wish I could take civil procedure all over again because I understand it better now that I have the context of practice in which to apply the rules. Beyond the law, the number-one thing that matters in my practice is being able to deal with people.Mastering people skills in small-section dinners, club meetings and in the beer-and-softball atmosphere of Virginia Law was the number-one thing that prepared me for what I do now. My time as a peer advisor is probably the most direct thing that I link to as part of the skill set that I use today with my clients. I have to encourage them, point them toward resources that meet their needs and sometimes just listen. I did a lot of that with my advisees when I was a peer advisor.
Why did you decide to hang out your own shingle? Looking back, what advice would you give to others who want to do the same?
I was unhappy practicing law and I wanted to change that.I planned to not practice law at all, but a mentor at my last firm steered me in the direction of family law (completely against my wishes), and something just clicked for me. I finally could see how someone could spend decades practicing law. Because I couldn't practice only family law at that firm, I left to start my own.
The best advice I can give is to ask for help. I reached out to the Center for Practice Management at the state bar association for guidance, I did several informational interviews with people who had started their own firms in different practice areas, I asked people I knew and other lawyers to send me referrals and I asked a senior lawyer to be my mentor. I don't remember being told no." People are so willing to help you if you just ask.
What's the most fulfilling part of working in family law?
I really enjoy helping people bring a really bad time in their life to some resolution. Child custody is my absolute favorite area of my practice and I get so much out of helping people have access to their children. Last year a former client sent me an email with a picture of him and his son posing by a Christmas tree. He just wanted me to see what I helped make possible. For every low point in this job, when I get a message like that, it makes it so clear why I do what I do.
What advice would you offer to current Virginia Law students as they consider what kind of career to follow?
I would tell them to listen to their instincts about what path to follow and don't ignore that. As a summer associate, I would have to pump myself up every morning to go to work and I literally jumped for joy when my summer was done. I spent most of my third year of law school trying to find another job so I wouldn't have to take my firm offer. Despite all of that, I went to the firm anyway and spent six years trying to fix" myself so that I would fit into a practice that I didn't enjoy. Time is precious and happiness is priceless. Don't waste either taking a path that you know instinctively is wrong for you. If you can't figure that out from the start, then at least have the courage to make a change.
When you visit Charlottesville, is there a particular place you always swing by [e.g. restaurant, location, etc.] (and why)?
I just feel so at home when I come to Charlottesville that I go to the most mundane places. I love to drive as far from the city as I want on Barracks Road. I normally find an excuse to go into the Harris-Teeter and the CVS at Barracks Road Shopping Center and, if I can, I stop by Arch's for some yogurt. If I'm there on a Sunday, I visit my adopted church family at Zion Union Baptist Church.
What was one of your favorite Law School classes, and why?
My number-one favorite was Hallmarks of Distinguished Advocacy with Robert Sayler, [then] an adjunct professor who was a partner at Covington and Burling. His words still ring in my ears when I'm in trial or preparing an argument and I finally found something in law school that I was good at.
Founded in 1819, the University of Virginia School of Law is the second-oldest continuously operating law school in the nation. Consistently ranked among the top law schools, Virginia is a world-renowned training ground for distinguished lawyers and public servants, instilling in them a commitment to leadership, integrity and community service.