U.S. Magistrate Judge David Keesler '87 on a Varied Career
Where are you working?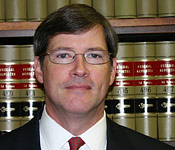 I am currently in my eighth year as a United States magistrate judge in the Western District of North Carolina. My office is in the federal courthouse in Charlotte, N.C., my hometown.
What is a typical day like for you?
One of the great things about this job is that there is no typical day. The work runs in repeating two-week cycles. For two weeks, I am the "duty judge," which means I am in court a lot presiding over pretrial proceedings in criminal cases, like initial appearances, bond hearings, arraignments and guilty plea hearings. During that cycle, I also meet with federal prosecutors and federal law enforcement agents to consider criminal complaints, search warrants and various investigative orders. When my two weeks as "duty judge" concludes, I spend the next two weeks mostly in chambers working on motions in civil cases. The two weeks in chambers tend to be more academic and quieter, filled more with reading and writing and consulting with my law clerk on draft orders.I really enjoy the variety.
How did your time at Virginia Law prepare you for your career?
That's a hard question to answer simply. I think Virginia turned out to be a great place for me. It combined a number of great features — a bright and diverse student body, a talented and engaged faculty, a surprisingly collegial atmosphere, a beautiful setting and a tradition of public service in all its many forms.Many of my memories of my time there revolve around the many talented and interesting students I met and some of the "bigger than life" professors of that era. I was frankly inspired by both.
You've worked as a law clerk to a judge, as a lawyer in private practice, as a state and federal prosecutor, and even briefly as an expert legal analyst for ESPN. What were some of the most memorable challenges in your career on your way to your current job?
I feel very blessed. I have learned important things at every professional stop along the way that I apply daily to my current duties, so it is hard to single out even a few. While I loved clerking for a judge and I enjoyed aspects of private law practice, I would have to say my two stints as a prosecutor probably stand out. As an assistant district attorney in Charlotte for four years, I tried literally hundreds of non-jury and jury trials in cases ranging from running a red light to very serious felonies. I went from that office to the U.S. Attorney's Office in Charlotte, where I spent the next five and a half years as an assistant U.S. attorney. Among the many cases I dealt with there was a case of some local renown — the $17 million Loomis Fargo heist. During my time at the U.S. Attorney's Office, I practiced daily in the courts where I now preside. The TV analyst gig was fun, and that occurred while I was in private practice during a notorious local criminal trial involving a local professional football player.I did daily TV work for one of the local stations, and then ultimately did a couple of appearances on ESPN as the trial concluded. As I said, I have been very lucky to have had some neat experiences along the way.
What's the most fulfilling part of working as a federal magistrate judge?
From a big-picture perspective, I just feel very blessed to be able to work every day in the court system.It's a remarkable thing if you think about it — in this country, we don't grab our guns and head to the streets when there are disagreements; we go to court. We have a centuries-old process, and it's not perfect, but we trust it. It is literally critical to the republic, and to get to work in that system every day is both a joy and a real privilege. On a smaller scale, I do get a great sense of satisfaction from those occasions — particularly in criminal court, and they don't happen every day — when a ruling I make or a judgment I render affects some person's life for the better. It doesn't happen in every case, but occasionally you can make a direct and real difference in someone's future.
What advice would you offer to current Virginia Law students as they consider what kind of career to follow?
I guess I have an old worn out cliche to share, but it's a good one. Find what you are passionate about, what you really love doing, and see if you can get paid to do that. If you do, you won't "work" a day in your life. Also, remember that when the clock is running out on each of us, we won't wish we had worked more; we will wish we had more time to spend with the family and friends we care about the most.
You have a busy professional life. What do you like to do in your spare time to relax?
Our girls are now 13 and 10, so if the question is what I like to do to relax, that's an easy one — go to whatever soccer field they are playing on.My job, while demanding in certain ways, has afforded me some flexibility in my schedule. I have had the pleasure of coaching and watching both of them a lot, and there's nothing I enjoy more. The soccer sideline is my sanctuary.
What was one of your favorite Law School classes, and why?
Wow, that is a tough question. I tend to remember classes based on the professors who taught them. I had the privilege of being taught by some real legends — [Robert] Scott, [Saul] Levmore, [Daniel] Meador, [John] Jeffries, [Peter] Low, [Lillian] BeVier, and [Stephen] Saltzburg. It's awfully hard to single out any one, but I must say I still remember being in awe of the unsighted Dan Meador teaching us Civil Procedure and Federal Courts. Watching him do that at such a high level despite his blindness made anything seem possible. I can just picture him now. I will always remember that.
Founded in 1819, the University of Virginia School of Law is the second-oldest continuously operating law school in the nation. Consistently ranked among the top law schools, Virginia is a world-renowned training ground for distinguished lawyers and public servants, instilling in them a commitment to leadership, integrity and community service.