Shack Shackelford '74 on Being a 'Classic' Country Lawyer
Where are you working/what is your practice?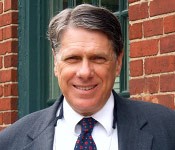 I am a member of Shackelford, Thomas & Gregg, PLC, which is a general-practice law firm with offices in Orange and Culpeper, Va. I am also the county attorney for Madison County, Va. I have a very traditional general practice in a beautiful, rural area.
How did your time at Virginia Law prepare you for your career?
UVA Law's atmosphere of collegiality and sense of honor gave me very valuable foundations for a rewarding general practice. On the academic side, UVA Law taught me how to analyze a problem from a legal perspective, how to research a legal issue and how to write concisely.
Your family has deep ties both to the law in general and to UVA Law in particular. What are some of those connections, and how did law become the family business?
Lawyers in my family include both grandfathers, both parents, one sister and a special wife — all from UVA Law except the two unusual ones from Harvard Law and Boalt Hall.
A judge described you as the "classic model for a country lawyer" when you won the Virginia State Bar Tradition of Excellence Award. What's the most fulfilling part of your work?
I treasure the personal interaction that I have with clients, lawyers and judges. I like the busyness of my "small-time" practice, especially since I am not a legal scholar. I also enjoy the competitive aspects of an active trial practice.
What advice would you offer to current Virginia Law students interested in working in smaller communities?
It is unlikely that a lawyer will become rich from a small-town practice; but if you want to try cases in court and to have some personal control over your practice, don't hesitate to approach a country firm for a job with a minimal guaranteed salary or simply hang your shingle on Main Street.
What was one of your favorite Law School classes, and why?
I most enjoyed moot court and a trial practice seminar led by a superb litigator/judge because both gave me an opportunity to learn how to argue a case on my feet. I also enjoyed civil and criminal procedure courses because I sensed correctly that a knowledge of procedure would be essential for a trial practice.
Founded in 1819, the University of Virginia School of Law is the second-oldest continuously operating law school in the nation. Consistently ranked among the top law schools, Virginia is a world-renowned training ground for distinguished lawyers and public servants, instilling in them a commitment to leadership, integrity and community service.