Annie Kim '99 Joins Law School as Head of Public Service Center
Annie Kim, a 1999 Virginia Law graduate who previously served as in-house counsel for two Virginia local governments, has joined the school as assistant dean for public service and director of the Mortimer Caplin Public Service Center.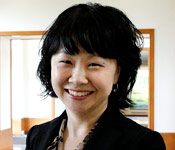 "Annie has been deeply devoted to public service work since her time as a law student," said Dean Paul G. Mahoney."I have every confidence that she will build on the great successes the Public Service Center achieved under Yared Getachew's leadership."
Getachew, Kim's predecessor, recently became legal adviser to a U.S. arbitrator for the Iran-U.S. Claims Tribunal in The Hague.
"We will all miss Yared's extraordinary energy, graciousness, good will and concern for our students," Mahoney said."Under his leadership, the Public Service Center has been a source of outstanding programmatic and career-planning and placement activity."
Kim, who also received her B.A. in English from the University of Virginia, said she was excited to return to her alma mater.
"I wanted to come back and work with the next generation of law students," she said. "The classes now are so talented and committed, and they're so much more active in their college and work careers before they come to law school — it's pretty amazing."
The Fairfax County native entered law school thinking she would try criminal law, and interned her first year with the Fairfax County Public Defender's Office.
"I did enjoy it, but I decided criminal law was not for me," Kim said. After three years with the law firm Hunton & Williams and a small firm in Northern Virginia, Kim turned full time to public service.
As in-house counsel for Henrico County, she litigated tort, civil rights and employment cases and advised clients in the areas of public safety and employment law. In 2007 she joined the Albemarle County Attorney's Office, where she represented an elected school board and school division, as well as the police, fire and rescue, and human resources departments.
"From moment to moment I had so many different kinds of legal issues and questions I worked on — it could be a student First Amendment T-shirt question, it could be about a police internal affairs matter or a fire ordinance I was drafting," she said. "I really enjoyed the client counseling and policy work I did."
Kim, who as a student served on the boards of the Virginia Journal of Social Policy & the Law and the Asian Pacific American Law Students Association, said she jumped at the opportunity to lead the Law School's public service efforts.
"My immediate goal is to start getting more student input about the Public Service Center and work closely with PILA members and other students on what we could be doing better," Kim said. "We have a talented and committed team here at the Public Service Center and I'm thrilled to be working with them."
Kim said she also hopes to build a robust alumni advisory network that will allow students to contact alumni who work in fields they are interested in, and the center to stay in touch with alumni.
She hopes the network will "give us continuous feedback about how the job market is changing."
"We want to be sharp, so we don't lose touch with what it's like in the workplace, in order to better serve our students," she said.
An active member of the bar, Kim teaches on the Virginia State Bar Professionalism Course faculty, serves on the Board of Governors for the Local Government Section of the Virginia State Bar and the board of the Charlottesville Albemarle Bar Association, and has been a member and leader of the Local Government Attorneys of Virginia.
In her spare time, she pursued getting an M.F.A. in creative writing from Warren Wilson College, which she completed in 2009. Writing poetry offers a creative and intellectual outlet, she said.
"I didn't really write until well after law school," said Kim, whose poetry idols include Canadian Anne Carson and American Frank Bidart.
Her other pastimes include playing violin and participating in SealTeam PT — a group military-style fitness program involving moves like "Supermans" — nothing a dedicated public servant can't handle.
"I like to think that the hardest part of my day is done when I walk off the field after a workout," Kim said. "Compared to doing 100 inclined sit-ups on a hill, everything else seems easy!"
Founded in 1819, the University of Virginia School of Law is the second-oldest continuously operating law school in the nation. Consistently ranked among the top law schools, Virginia is a world-renowned training ground for distinguished lawyers and public servants, instilling in them a commitment to leadership, integrity and community service.