Brown-Nagin's Book on Civil Rights Movement Wins Bancroft Prize
University of Virginia School of Law professor Tomiko Brown-Nagin's 2011 book on the civil rights movement, "Courage to Dissent: Atlanta and the Long History of the Civil Rights Movement," on Wednesday was named a 2012 recipient of the prestigious Bancroft Prize for history.
"I am both humbled and gratified by this honor," Brown-Nagin said. "I'm pleased that the Bancroft Prize Committee found this work worthy of recognition."
Winners of Columbia University's Bancroft Prize, which carries a $10,000 award, are selected based on "the scope, significance, depth of research, and richness of interpretation they present in the areas of American history and diplomacy," according to the school. There were 175 books nominated for consideration this year.
Brown-Nagin, the Thurgood Marshall Distinguished Professor of Law and a UVA history professor, is one of three Bancroft Prize recipients for 2012. Also winning the award are Anne F. Hyde, a Colorado College history professor and author of "Empires, Nations, and Families: A History of the North American West, 1800-1860," and Daniel T. Rogers, a Princeton University history professor and author of "Age of Fracture."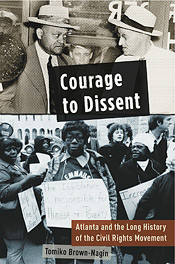 "Historical scholarship with innovative and rigorous re-examinations and exciting boundary challenges, as evidenced by the content and scope of this year's Bancroft Prize winners, is so worthy of our celebration and recognition," said James Neal, Columbia University's librarian and vice president for information services, who administers the Bancroft Prize. "We applaud the excellence in research, writing and thought demonstrated by the three works selected this year."
Brown-Nagin's book, which was published by Oxford University Press, explores the work of civil rights lawyers and activists who made important but often overlooked contributions to the movement. (More)
"Understandably, many legal histories of the civil rights movement emphasize the work of the U.S. Supreme Court and the lawyers whose courtroom strategies desegregated society," Brown-Nagin said. "'Courage to Dissent' takes a different perspective. It blends legal and social history, local and national history to create a multilayered history of law and the civil rights movement and doesn't assume that integration and equality were one and the same."
She added that "the book foregrounds the activism of local people sidelined in many constitutional studies of the modern civil rights movement — lesser-known lawyers and activists, negotiators rather than litigators, community organizers and working people. All of these citizens played important roles in the mid-twentieth century struggle for racial equality — contributions overshadowed when the legal history of the movement is understood primarily from the perspective of the U.S. Supreme Court and prominent, national leaders."
Founded in 1819, the University of Virginia School of Law is the second-oldest continuously operating law school in the nation. Consistently ranked among the top law schools, Virginia is a world-renowned training ground for distinguished lawyers and public servants, instilling in them a commitment to leadership, integrity and community service.