Lee '12 Receives Prestigious Human Rights Fellowship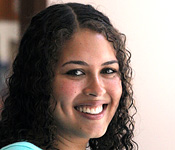 Jessica Lee, who graduated from the University of Virginia School of Law in May, has received a prestigious two-year fellowship at the Center for Constitutional Rights in New York City.
The organization, a nonprofit dedicated to advancing the rights guaranteed by the U.S. Constitution and the Universal Declaration of Human Rights, selected Lee from more than 600 applicants for its Social Justice Institute Fellowship in International Human Rights.
What will you be working on through this fellowship?
I will be working on the international human rights docket, which focuses on cases and advocacy against multinational corporations and government officials for serious human rights or humanitarian law violations, cases involving international women's rights and gender justice, and the promotion and protection of economic, social and cultural rights.
Although there are numerous cases currently being litigated, some examples include litigation to find accountability for extrajudicial killings and other rights abuses that resulted from the Honduras coup, seeking redress for victims of clergy sex abuse, fighting for accountability for persecution of LGBTQ people in Uganda, and litigation and advocacy to challenge impunity for torture, whoever the perpetrators are and wherever it occurs.
Some of the most interesting cases revolve around corporate responsibility for gross human rights violations; CCR has been at the forefront of the fights for corporate accountability, from pioneering the use of Alien Tort Statute litigation to seeking to define the roles of military contractors in Iraq and Afghanistan. Currently, much of the legal framework used to hold corporations accountable is still in flux, and I am excited to be able to work on the issue at such a critical point in history.
In terms of day-to-day work, this fellowship is uniquely well rounded. I will be working on everything from developing legal strategy in support of litigation to collaborating with community groups and the media. Part of my interest in the fellowship was this focus on lawyering as a part of a broader movement, rather than simply practicing law from a more isolated perspective behind a desk.
What are you hoping to learn from this fellowship?
The fellowship is uniquely centered on empowering the next generation of "people's lawyers," and that's exactly what I want to be. I am hoping to get solid training and mentorship from CCR's lawyers, who are some of the most creative and brilliant professionals I've encountered. I look forward to learning from CCR's lawyers and from our partners around the world about how they tackle human rights abuses alongside impacted communities. I hope to use both litigation and advocacy as tools to effect change in communities and find justice for victims of human rights abuses.
How did your time at UVA Law prepare you for the work you'll be doing at CCR?
My time at UVA prepared me on a number of levels for the work I'll be doing at CCR. On one level, my experience with the Human Rights Program and the International Human Rights Clinic gave me a solid knowledge of the international human rights framework. Moreover, through classes and pro bono projects with the program, I have been fortunate to study and work on a broad range of human rights topics, from the rights of indigenous peoples, to the law of war, to the prevention of violence against women.
My clinic and pro bono experiences gave me the tools I need to succeed in translating that knowledge to action. The Innocence Project Clinic refined my investigative, research and writing skills, preparing me for strategic civil litigation. With the International Human Rights Clinic, I was actually able to work with CCR on a case in my 2L year, which was an invaluable experience.
What are your long-term career goals?
After this fellowship I plan to continue working for human rights. It's my goal to not only be able to be an active participant in complex human rights litigation, but to be able to initiate and lead cases that push the boundaries of our status quo. In particular, I am passionate about access to justice; I believe that all people ought to have access to redress in the courts, and I want to expand the ability of courts to hear human rights abuse claims and reach enforceable judgments. I am confident my time with CCR will give me the skills I need to do just that, and continue my career two years from now as an innovative and successful lawyer and advocate.
Any advice for law students interested in pursuing a similar path?
I strongly encourage current students to take advantage of the opportunities they have to apply the skills they're learning through clinics and pro bono work. The field of human rights is overwhelmingly broad, but by practicing I was able to learn a great deal about a number of areas of the law much more quickly than through study, while at the same time refining my lawyering skills. Also, students interested in CCR should consider applying to their renowned Ella Baker Summer Internship Program, which is also a part of the Social Justice Institute.
Founded in 1819, the University of Virginia School of Law is the second-oldest continuously operating law school in the nation. Consistently ranked among the top law schools, Virginia is a world-renowned training ground for distinguished lawyers and public servants, instilling in them a commitment to leadership, integrity and community service.