Willard '11 to Clerk for Supreme Court Justice Kennedy
Lauren Willard '11 will clerk for U.S. Supreme Court Justice Anthony Kennedy during the 2012-13 term.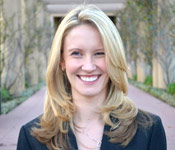 Willard, originally from Northern Virginia, will be one of two Virginia Law alumni clerking at the Supreme Court beginning in July. One of her classmates, Rebecca Gantt '11, will be serving as a clerk for Justice Stephen Breyer. (More)
Willard said she expects her clerkship with Justice Kennedy will be both challenging and rewarding.
"I'm looking forward to gaining an inside perspective of how the court operates and a chance to work on the tough issues facing the court today," Willard said. "Former clerks speak highly of their experience, so I'm excited to share that unique opportunity. I'm also honored to work for Justice Kennedy, whom I greatly admire."
"I think the most difficult thing about clerking on the court will be dealing with the impact my work will have, as the court is the final arbiter on key legal questions," she said. "It will be difficult, I'm sure, but also immensely rewarding."
Willard is currently a clerk for Chief Judge Alex Kozinski on the 9th U.S. Circuit Court of Appeals in Pasadena, Calif. She said she expects her experience clerking for Kozinski will serve her well at the Supreme Court.
"Chief Judge Kozinski is an amazing writer, well-known for his clear and humorous opinions. He works closely with his law clerks to impart his knowledge about the law and legal writing," she said. "I've gained experience in legal writing, legal persuasion and evaluating the strengths of legal arguments. And as a clerk on a court of appeals, I am constantly required to follow, analyze and apply Supreme Court precedent."
Prior to enrolling at Virginia Law, Willard earned her undergraduate degree at Stanford University and a master's degree in international relations and economics from Johns Hopkins University's School of Advanced International Studies.
While pursuing her master's degree, she discovered she had a particular interest in international law and human rights.
"I realized I would need a law degree if I wanted to pursue those interests professionally," she said. "Fortunately, I discovered that SAIS has an established joint-degree program with UVA Law School, to which I immediately applied. I started at UVA the following year."
While at UVA, Willard was articles editor of the Virginia Law Review; a two-term board member of the J.B. Moore Society of International Law; a Cowan Fellow in the Human Rights Study Project, which included a research trip to Egypt (More); and a member of the Hunton & Williams Immigration and Asylum Pro Bono Partnership.
Willard said her time at Virginia Law helped prepare her for her clerkships.
"Having explored the recent history of the court and its justices in Professor [A.E. Dick] Howard's Supreme Court seminar will be particularly helpful for my next clerkship," she said. "And my First Amendment Theory seminar with Professors [Lillian] BeVier and [Leslie] Kendrick also taught me to think critically about difficult constitutional issues that arise both on the 9th Circuit and on the Supreme Court."
BeVier recalled Willard as an "outstanding student" who was "very game with regard to the Socratic dialogue, always interested and wonderfully cheerful."
Willard stood out amongst her First Amendment seminar classmates, many of whom were a year ahead of her at the Law School, BeVier added.
"She was always very respectful of her peers but never flagged in her determination to express her own viewpoints clearly and forcefully, and she had great insights into what proved to be a rather messy set of readings," she said. "As I became more and more familiar with her, with her work habits and her sense of responsibility, and with her incisive intelligence, I became more and more convinced that she was a good candidate for a Supreme Court clerkship — and I am not surprised that Justice Kennedy agreed with this."
Even among UVA Law's top students, Willard was exceptional, Howard said.
He called the range of her accomplishments "remarkable," noting her "superb work" at the Law School, her research on human rights in Egypt, her pro bono efforts in asylum cases, and her current clerkship for one of the country's most respected appellate court judges.
"Not only is she uncommonly bright and hardworking, she is one of the nicest people you will ever meet," he said. "Justice Kennedy will quickly discover what a great decision he has made in taking Lauren on board."
Looking ahead, Willard said she has not yet decided what she wants to do after she wraps up her Supreme Court clerkship.
"I'm still figuring it out. I'm interested in international law, antitrust and appellate litigation," she said. "I'd also like to work for the government at some point."
Founded in 1819, the University of Virginia School of Law is the second-oldest continuously operating law school in the nation. Consistently ranked among the top law schools, Virginia is a world-renowned training ground for distinguished lawyers and public servants, instilling in them a commitment to leadership, integrity and community service.