Student Reflects on Witnessing Oral Arguments in Supreme Court Clinic's Firearms Case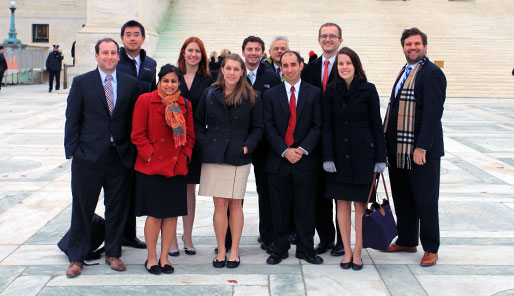 Third-year law student Gillian Giannetti and several classmates in the University of Virginia School of Law's Supreme Court Litigation Clinic on Tuesday observed clinic instructor John Elwood argue in Rosemond v. United States, a case in which a clinic client is appealing his 2010 federal firearms conviction. (More)
Giannetti wrote the following first-person account of what she saw during her trip to the Supreme Court, which came just days after her wedding.
The Supreme Court Litigation Clinic has been the most unique class I have taken at UVA. There is simply no comparison for working on real cases that affect real clients and being able to do that in preparation for law's ultimate stage has been a thoroughly rewarding experience.
The Rosemond case was not an easy one. This question required each member of the team to become experts on complicated nuances of criminal law in a very short amount of time. The case involves the prosecution of 18 U.S.C. 924(c), which is the criminal statute that mandates additional incarceration for using a firearm during and in relation to a drug trafficking crime or a crime of violence. The question presented was whether a conviction for aiding and abetting the use of a firearm in violation of Section 924(c) requires a showing that the aider and abettor intentionally facilitated the firearm or simple knowledge that the principal offender used the firearm.
Writing the response merits brief was a rewarding and intellectually challenging exercise. But nothing can compare to actually seeing the case argued in front of the court. It was a truly awesome experience to see the very discussions that my classmates and I had in Charlottesville transferred to the Supreme Court. And it was reassuring to see the justices struggle with the same questions that came up in our classroom discussions.
One major benefit in how UVA's Supreme Court Litigation Clinic is structured is that we work with both a full-time professor and a partner at a major law firm, both of whom themselves clerked for the Supreme Court. It was fascinating to see how John Elwood, a partner at Vinson & Elkins, took our substantive research and turned it into his oral argument. His ability to think on his feet and respond to the court's constant interruptions (particularly those from Justice Kennedy) was awe-inspiring. I look forward to continuing to work for and learn from both Professor [Dan] Ortiz and Mr. Elwood for the rest of the school year.
This experience was especially exciting for me because I got to share it with my husband of three days. When I started at UVA, my now-husband, Ryan Giannetti, and I looked around Charlottesville and knew that, once we decided to get married, it would have to be in front of Charlottesville's beautiful landscape. We married in front of many family, long-time friends, and law school friends at Trump Winery on Nov. 9. When I mentioned to my husband that the Rosemond case was to be argued on Tuesday, he excitedly responded that we should make it part of our post-wedding adventure. As Ryan is not a law student, it was fascinating to see what questions he had in response to the briefs and it helped me to gain insight into what way the court may ultimately decide the case.
To say the least, November 2013 will always place a special place in my heart. It was incredibly unique to combine my greatest personal moment with a great professional moment.
Founded in 1819, the University of Virginia School of Law is the second-oldest continuously operating law school in the nation. Consistently ranked among the top law schools, Virginia is a world-renowned training ground for distinguished lawyers and public servants, instilling in them a commitment to leadership, integrity and community service.