Holiday Recipes From the UVA Law Family Cookbooks
It's time to close the book on the exam season and start thinking holidays — and food. University of Virginia School of Law faculty and staff recently offered some of their best recipes for the season.
Share a recipe with us on Facebook.
Easy and Festive Holiday Peppers
Kevin Donovan
Senior Assistant Dean for Career Services
Take red, yellow or orange bell peppers. Remove the tops and the innards. Dice a bunch of plum tomatoes and mix this with feta cheese and pesto (amounts based on how much you like each). Don't worry about how much of the filling you make — whatever you don't use, you can just scarf up. Stuff the filling in the peppers. Put the peppers standing upright in an open Pyrex pan. Bake at 350° about 20 minutes. For obvious reasons, they release a lot of juice when you cut them, so if you are one of those people who doesn't want anything touching anything else, plan accordingly.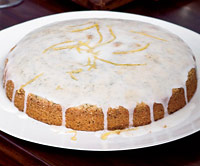 Lemon Poppy Seed Cake
George Geis
Vice Dean and William S. Potter Professor of Law
"Here is our favorite dessert recipe; I have a standing promise to make it for my kids whenever it snows." Available online
2 tablespoons fine dry bread crumbs
1 cup all-purpose flour
1/2 cup plus 1 tablespoon cake flour
1 teaspoon baking powder
1/2 teaspoon salt
1 stick unsalted butter, softened
1 cup granulated sugar
2 large eggs
1/2 cup milk
Finely grated zest of 1 lemon
2 teaspoons pure lemon extract
2 tablespoons poppy seeds
1 cup confectioners' sugar
2 tablespoons freshly squeezed lemon juice
Preheat the oven to 350°. Butter a 9-inch round cake pan and dust with the bread crumbs; tap out any excess crumbs. In a medium bowl, whisk the all-purpose flour and cake flour with the baking powder and salt. In a large bowl, using a handheld electric mixer (or with a stand mixer), beat the butter with the granulated sugar at medium-high speed until it is pale and fluffy. Beat in the eggs, 1 at a time, beating well between additions. At low speed, in 2 alternating batches, beat in the dry ingredients and the milk. With a rubber spatula, fold in the lemon zest, lemon extract and poppy seeds.
Using a rubber spatula, scrape the batter into the prepared pan and bake for 30 minutes, until a cake tester inserted in the center of the cake comes out clean.
Carefully invert the cake onto a wire rack and let cool to room temperature. Transfer the cake to a serving plate.
In a medium bowl, stir the confectioners' sugar with the lemon juice to make a runny glaze. Using a spatula, spread the glaze over the cake, letting it run down the sides. Cut into wedges and serve.
The cake can be stored in an airtight container for 2 days.
 
Apple Pie
Andrew Hayashi
Associate Professor of Law
"I love apple pie. This is my favorite recipe."
Dough
2 1/2 cups plus 2 tablespoons flour
1/2 tablespoon kosher salt
3/4 stick (3 ounces) cold unsalted butter, cut into small pieces
5 1/2 ounces Crisco shortening, chilled
1/2 cup ice water
Pie filling
6 cups thinly sliced, peeled cooking apples
lemon juice
3/4 cup sugar
2 tables flour
1/2 teaspoon ground cinnamon
1/8 teaspoon ground nutmeg
Make the dough:
Mix the flour and salt together in a large bowl. Add the butter, and using a pastry blender or your fingers, cut it into the flour until the mixture looks like coarse crumbs.
Using the pastry blender or your fingers, cut in the shortening until the mixture has small clumps. Using a wooden spoon add the ice water, stirring to incorporate it.
Turn the dough out onto a lightly floured work surface and fold it over on itself a few times — don't get carried away. The dough will be soft, but it will firm up in the fridge. Wrap the dough in plastic wrap and refrigerate for at least 2 hours and as long as 5 days.
Cook the pie:
Preheat the oven to 375°.
Roll out the pastry and line a 9-inch pie plate with half of the dough.
Take 6 cups of thinly sliced, peeled cooking apples. Sprinkle with lemon juice and stir in a large bowl with 3/4 cup sugar, 2 tablespoons flour, 1/2 teaspoon ground cinnamon and 1/8 teaspoon ground nutmeg. Toss until coated and transfer to pie plate.
Trim bottom pie crust to the edge of the plate. Roll out the other half of the dough and cover the pie, sealing the edges and cutting slits in the top.
Cover edges of the pie with foil and bake for 40 min. Remove foil and bake for 20 minutes more. Cool on a wire rack and enjoy!
You will have dough left over, which you could freeze for later use or make a tart. To make a tart, roll out the dough in a circle, spread with jam and fold in half. Pinch the edges and prick. Bake on a cookie sheet until golden. Or roll out the dough in a circle, spread with a bit of soft butter or margarine and sprinkle with cinnamon and sugar. Roll up like a jelly roll and cut into 1 1/2 inch pieces. Place on a cookie sheet and bake until golden.
 
Chocolate-Chunk Oatmeal Cookies with Pecans and Dried Cherries
Patrice Hayden
Director of Law Firm Recruiting
2 1/2 cups flour
1 1/2 teaspoons baking powder
1 teaspoon baking soda
1 teaspoon table salt
2 1/2 cups old fashioned oats
2 cups toasted pecans, chopped
2 cups dried tart cherry, chopped coarse (cranraisins can also be used)
8 ounces bittersweet chocolate, chopped into the size of chocolate chips (you can also use semisweet chocolate chips)
3 sticks unsalted butter, softened, but still cool
3 cups packed brown sugar
2 large eggs
2 teaspoons vanilla extract
Preheat oven to 350°.
Line 2 large (18" x 12") baking sheets with parchment paper.
Whisk flour, baking powder, baking soda and salt in a medium bowl.
In a second medium bowl, stir together, oats, pecans, cherries and chocolate.
In a standing mixer fitted with flat beater, beat butter and sugar at medium speed until no sugar lumps remain, about 1 minute.
Scrape down sides of the bowl with a rubber spatula; add egg and vanilla and beat on medium-low speed until fully incorporated, about 30 seconds.
Scrape down the bowl; with the mixer running at low speed, add flour mixture until just combined, about 30 seconds.
With the mixer still running on low, gradually add the oat/nut mixture until just incorporated.
Give dough a final stir with the rubber spatula to ensure that no flour pockets remain and ingredients are evenly distributed.
Divide dough evenly into 16 portions; about 1/4 cup each.
Roll between palms into balls about 2 inches in diameter; stagger 8 balls on each baking sheet, spacing about 2 1/2 inches apart.
Using hands, gently press each dough ball into 1 inch thickness. Bake both sheets 12 minutes, rotate them front to back and top to bottom, then continue to bake until cookies are medium brown and edges have begun to set but centers are still soft (cookies will seem underdone and will appear raw, wet and shiny in cracks). (I baked each cookie tray individually for 18 minutes). Do not over-bake.
Cool the cookies on baking sheets on a wire rack 5 minutes; using a wide metal spatula, transfer the cookies to a wire rack and cool to room temperature.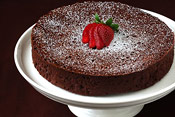 Flourless Chocolate Cake
Deborah Hellman
F. D. G. Ribble Professor of Law
4 ounces bittersweet chocolate (not unsweetened)
1 stick unsalted butter
3/4 cup sugar
3 large eggs
1/2 cup unsweetened cocoa powder
Preheat oven to 375°, and butter an 8-inch round baking pan. Line bottom with a round of wax paper and butter the paper.
Break chocolate into small pieces. In a double boiler or metal bowl set over a saucepan of barely simmering water, melt chocolate with butter, stirring until smooth.
Remove top of double boiler or bowl from heat and whisk sugar into chocolate mixture. Add eggs and whisk well. Sift 1/2 cup cocoa powder over chocolate mixture and whisk until just combined.
Pour batter into pan and bake in middle of oven for 20-25 minutes or until top has formed a thin crust (usually about 20 minutes).
Cool cake in pan on a rack for 5 minutes and invert onto a serving plate. Peel off wax paper. Re-invert onto another plate. Dust with powdered sugar. Best if served warm! (Hint: Get it ready to bake and then only put it in the over while eating dinner so it will be warm for dessert.)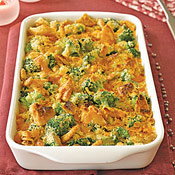 Broccoli Casserole
Jennifer Hulvey
Director of Financial Aid
"I cook a big Thanksgiving meal each year for the Hulvey family, and this broccoli casserole is a most-requested favorite. The recipe was given to me by my college roommate, and I think of her fondly each time I make it. I serve it in a clear casserole dish so that the colors show. Enjoy!"
2 boxes of chopped, frozen broccoli (20-30 ounces of frozen broccoli)
1 can cream of mushroom soup
1 medium onion, finely grated
1/2 cup real mayonnaise
2 eggs, beaten
1 cup (or more to taste) grated cheddar cheese
1 stick butter
1/2 package of 14-oz. size Pepperidge Farm Herb Seasoned Stuffing
Cook and drain broccoli. Mix soup, grated onion, mayonnaise and eggs in a separate bowl. Layer half of broccoli, soup mixture and cheese in casserole dish. Repeat layers. Melt butter and mix with stuffing. Top casserole with stuffing mix.  Bake covered at 350 degrees for 45 minutes. Serve hot.
 
Dark Chocolate Truffles
Paul G. Mahoney
Dean, David and Mary Harrison Distinguished Professor of Law, and Arnold H. Leon Professor of Law
8 ounces dark chocolate (choose the cocoa % to suit your tastes; I use Scharffen Berger 82%)
1/2 cup heavy cream
(Optional) 2 tablespoons vanilla extract or Cognac, as you prefer
1/2 cup unsweetened powdered cocoa
Chop the dark chocolate. Using a small, heavy pan, bring the cream to a boil. Pour the cream over the chocolate and let stand for about 3 minutes, breaking up any large pieces with a spoon. Add liqueur if using, then gently whisk to combine. Avoid excessive or vigorous whisking so you don't add air to the mix. Cover loosely with plastic wrap and refrigerate until firm, about 3 hours.
Using a measuring spoon or melon baller, scoop up 1 teaspoon of chocolate and quickly roll into a ball. Drop into the powdered cocoa to coat. Repeat until the mix is gone and refrigerate until firm. Makes about 30 truffles.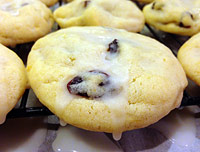 Lemon Cherry Bomb Sugar Cookies
Loren Moulds
Digital Collections Librarian
"I've been perfecting this recipe for Lemon Cherry Bomb cookies and got it just right only recently. It's a winner. It's a crowd pleaser."
2 1/3 cups flour*
1/2 teaspoon baking powder
1/2 teaspoon baking soda
1/2 teaspoon salt
2 sticks (16 tablespoons) unsalted butter, softened
1 cup granulated sugar
1 tablespoons brown sugar
1 egg
2 teaspoon vanilla
1 tablespoon lemon zest
3/4 cup (5 ounces) dried cherries (the obvious choice being the unrivaled Montmorency dried cherries from Michigan)
Glaze
Juice of 1 lemon or about 2-3 tablespoons
1 1/2 cup confectioners' sugar, sifted
Preheat oven to 350°. Whisk together flour, baking powder and soda, and salt.
Cream butter and sugars. Beat in egg. Add vanilla and zest. Scrape bowl as necessary.
Add dry ingredients and beat at low speed until just combined. Mix in cherries.
Roll into balls a little large than a golf ball and slightly press them flat onto a parchment-lined baking sheet.
Bake about 12-13 minutes until just browned on the edges. Let them sit on the hot sheet until slightly cooled, about 10 minutes. Move to cooling rack and let them cool completely.
Mix lemon juice and confectioners' sugar to make a thin glaze. You may need to adjust depending on the amount of juice the lemon provides. The intent is to make a glaze that is nearly invisible but provides an intense lemony punch. Pour the glaze over the cooled cookies. Allow the glaze to set.
Amaze your friends and family.
*Note: You can use 2 cups of flour for a flatter, chewier cookie. I like mine to come out more scone-like, thus the extra 1/3 cup flour. Omit the baking soda if you do so.
 
Ryan Family Pumpkin Bread (3 loaves)
Joby Ryan '05
Director of Career Services
Preheat oven to 350°.
In large bowl, mix together until blended:
6 eggs
1 1/2 cups vegetable oil
1 cup water
3 cups (1 large can) pumpkin
Add:
4 1/2 cups sugar
Mix well.
In another bowl, measure the following and stir slightly to blend:
4 cups flour
3/4 teaspoon baking powder
3 teaspoons baking soda
2 teaspoons salt
1 1/2 teaspoons ground cloves
3 teaspoons ground nutmeg
3 teaspoons ground cinnamon
Then add dry ingredients to other ingredients and continue to mix well.
When blended thoroughly, add:
1 cup flour
Mix well.
Pour into three greased loaf pans (9"x5"x3")
Bake about 1 hour and 10 minutes until the center is firm to touch and toothpick inserted into center comes out clean (or nearly so).
(Freezes very well.)
 
Double Pecan Chess Pie
Lois Shepherd
Peter A. Wallenborn, Jr. and Dolly F. Wallenborn Professor of Biomedical Ethics; Professor of Public Health Sciences; Professor of Law
"This pecan pie has double the pecans used in most recipes. If you generally like pecan pie but sometimes find the custard part is too much for you, you will like this pie."
1 pound brown sugar (yes, a whole box!)
1 stick butter, at room temperature
3 eggs
3 tablespoons flour
3 tablespoons milk
1/2 teaspoon vanilla
chopped pecans (approximately 2 cups)
pecan halves (approximately 2 cups)
2 unbaked 9" pie shells
Cream the sugar and butter. Then mix in the eggs, flour, milk and vanilla. Stir in the chopped pecans. Pour into 2 unbaked pie shells. Bake at 350° until a film forms over the top of the filling (about 10 minutes). Add pecan halves to cover top. Total baking time is 35 minutes. These freeze really well.
 
Banana Crunch Cake
Mary Wood
Chief Communications Officer
"This works as a breakfast/brunch cake or a dessert, and it keeps well for days, so you can make it in advance of your holiday festivities. This recipe is from the 'King Arthur Flour Whole Grain Baking' cookbook."
Cake batter
1 cup oat flour (you can food-process oats to grind them into powder if you don't have the flour)
1 cup whole-wheat flour, traditional or white whole wheat (I usually use white whole wheat)
1 teaspoon baking soda
1/2 teaspoon salt
1/2 cup unsalted butter
2/3 cup packed light or dark brown sugar
2 large eggs
1 cup mashed banana (2 large or 3 medium bananas)
1/2 cup plain yogurt, non-fat to full-fat (sour cream also works)
1 teaspoon vanilla extract
1/2 cup chopped pecans or walnuts
Optional:1 cup chocolate or toffee chips (haven't tried this, it's so good without)
Crunch topping
3/4 cup old-fashioned rolled oats
1/3 cup packed light or dark brown sugar
1/2 teaspoon cinnamon
1/4 teaspoon salt
2 tablespoons unsalted butter, melted
1/4 cup chopped pecans or walnuts
Preheat the oven to 350°; grease and flour an 8" square pan. (This recipe can be doubled to a 9"x13" pan.)
Make the cake batter:
Whisk together the flour, baking soda and salt in a medium bowl.
Cream together the butter and sugar in a large mixing bowl until light and fluffy.
Beat in the eggs, one at a time, stopping to scrape the sides and bottom of the bowl between additions.
Mix in half the dry ingredients until moistened, then mix in the banana, yogurt and vanilla.
Scrape down the sides and bottom of the bowl, then add the remaining dry ingredients and the nuts and chips, if using, mixing until evenly moistened.
Transfer the batter to the pan.
Make the topping:
Combine all the ingredients except the butter in a small bowl until blended. Stir in the melted butter until blended. Sprinkle the topping over the batter in the pan.
Bake until a cake tester comes out clean, about 40-45 minutes. Remove the cake from the oven and place it on a rack to cool for a few minutes, or cool completely. You can also serve it warm with ice cream. (Once cooled, a slice of this cake tastes great warmed up for 15-20 seconds in the microwave.)
 
Founded in 1819, the University of Virginia School of Law is the second-oldest continuously operating law school in the nation. Consistently ranked among the top law schools, Virginia is a world-renowned training ground for distinguished lawyers and public servants, instilling in them a commitment to leadership, integrity and community service.