Poor Left Uninsured in Face of Uncertain Future Funding of Health Law, Professor Says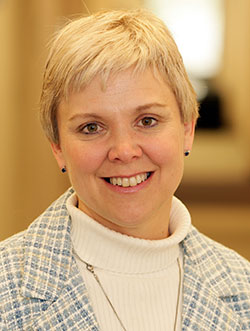 The decision by 26 states to reject an expansion of Medicaid under Obamacare will leave 8 million low-income Americans without health insurance and leaves the future of health security up to upcoming federal elections, according to University of Virginia law professor and health law expert Margaret Foster Riley.
Riley, who also has a secondary appointment in the Department of Public Health Sciences at UVA's School of Medicine, noted that a New York Times analysis on Thursday found that the states' decision will leave two-thirds of low-income blacks and single mothers and half of low-wage workers without insurance.
"The Supreme Court's decision in the June 2012 'Obamacare' case made it possible for states to opt out of one of the centerpiece provisions of the legislation, the expansion of Medicaid. Currently about half of the states, all with legislatures dominated by Republicans, have opted out of the expansion. Those states also have a greater proportion of the population eligible for the expansion — people living just above the poverty line — meaning that about 8 million people who otherwise would have been eligible for Medicaid under the expansion will not have access to insurance. The notable exception is Arkansas, which has opted to expand Medicaid, but has been permitted significant alterations. The success and experience of Arkansas may be the best predictor of whether or how quickly other states will choose to alter their current stance and join the expansion. But of course we won't know how that turns out for some time.
"The decision to expand or not is largely political — or at least governed by political principles. On its face, in the short term, refusing to join the expansion does not make sense. States that choose that option are leaving significant federal funds on the table since the legislation provides federal funds for 100 percent of the costs of the expansion for the first few years. Under the current legislation, even after the first few years, federal funds will cover most of the costs of expansion. However, if you expect or hope that Obamacare will be overturned — or if you believe that available federal funding will shrink regardless, Medicaid expansion carries significant risks. It means that states that expand Medicaid will ultimately carry the financial risk of that expansion — and those states that have greater eligible populations carry relatively greater risks.
"We won't know how this will all shake out until the 2014 and 2016 federal elections. Those elections will determine the fate of the evolution of Obamacare and also the availability of continued federal funds for health care, including Medicaid expansion. In the meantime, there are many people, often people who are working, who will be shut out of new insurance options. Some people may be able to move to other states, but they may be leaving their employment in the process. It can be hoped that charity care will continue to step up to cover the most exigent of these cases. But that charity care costs hospitals dearly. And charity care does not provide consistent care, nor does it provide the psychological and financial security that health insurance provides. For that, 8 million Americans will have to wait."
Founded in 1819, the University of Virginia School of Law is the second-oldest continuously operating law school in the nation. Consistently ranked among the top law schools, Virginia is a world-renowned training ground for distinguished lawyers and public servants, instilling in them a commitment to leadership, integrity and community service.