UVA Law Professor's Book Aims to Help Students Navigate Verbal Challenges of Law School, Workplace
For many law students taking classes taught with the Socratic Method, it can be more than a little intimidating when a professor calls on them to answer a series of what are often tricky or complex questions in front of their classmates.
"I remember being a law student and feeling like I have no idea how to do this and I don't even know why I'm having to do this," said University of Virginia law professor Molly Bishop Shadel. "Once I became a lawyer, I realized it's a really important skill. That's because lawyers are called upon to explain things aloud all the time."
Shadel, who teaches courses in public speaking and persuasion, has authored a new book that attempts to help prepare law students for the communication challenges they will likely encounter in law school and in their careers as attorneys.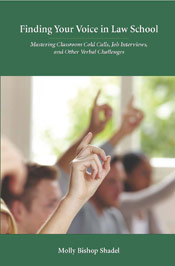 "Finding Your Voice in Law School: Mastering Classroom Cold Calls and Other Verbal Challenges," she said, draws on interviews with law students and practicing lawyers to identify key strategies for succeeding at classroom discussion, mock trials and job interviews, as well as making arguments in a courtroom.
"The reason that I first took on this project was that I wanted to help students who have struggled with this part of law school figure out how to approach it, because it's not just something you're born knowing how to do. It's something you learn. It's a skill that you can acquire."
While the book is designed to appeal to law students and lawyers, it would also prove useful for anyone who's entering a profession in which oral communication plays an important role, Shadel said. The book offers strategies for how to be professional and communicate effectively during summer jobs and beyond.
"I think it'd be helpful for business students. I think it'd be helpful for nursing students, medical students — people who need to understand how to communicate complicated ideas to other people in a way that those people can comprehend and respond to," she said.
One strategy Shadel outlines in the book is to prepare ahead of time and sort out what you know before you walk into the classroom, job interview or courtroom.
"You do your reading, understanding that what you're trying to do is distill for yourself a set of notes that you're going to be able to use when you're speaking to the professor," Shadel said. "It's a lot about: How do you take the notes? How do you organize that information so that's it's got the kind of a structure that makes sense to you, so that you can repeat it back to other people?"
When faced with a difficult question you don't immediately know the answer to, Shadel recommends pausing for a moment, taking a deep breath and thinking about what the person is actually asking.
"If you feel like you don't understand what the person is asking, it's perfectly fine to ask for clarification," she said. "And then, rather than panicking and thinking that, 'Oh, I'm going to be showing everybody that I'm a fraud, I don't actually know the answers to anything,' think about what you do know and start with that. Because very often, you can figure out what it is you need to say based on the follow-up question you get from the professor."
Shadel said her book is also useful because it underscores how a student's experience in law school will be important in their future career as a lawyer.
"What you're doing in law school, during your summer jobs, and during those first few years of practice is the beginning of your professional life. It's the beginning of your professional reputation. The friends you make in law school, they become your professional contacts down the road," she said. "The impression that you're making in class when you are answering questions and responding to ideas from classmates, or during interactions as a summer associate with other lawyers — those interactions form the basis of your professional reputation. People remember those things."
Shadel added that law students will quickly discover that they need to be able to speak engagingly and effectively in order to land a summer job, and to turn that job into a permanent offer.
"The focus of the second half of the book is how to take those verbal skills you've learned in law school and apply them to a job interview setting, as well as to the kinds of interactions you're likely to have on the job," she said.
When Shadel began thinking about writing the book, she surveyed her fellow faculty members and asked for the names of law students who made an impression in class. She then interviewed the students, asking them how they prepare for class and how they approach classroom discussions.
Though the students had different backgrounds, a number of common tips emerged.
"One thing [they shared] was that they were all being thoughtful about how to get better in class," she said. "They were coming up with a plan to keep up with the reading. If they answered a question poorly in class, they didn't decide to shut down and never answer a question again. They tried to figure out, 'OK, how can I do it better the next time?'"
Another common theme was that the students invariably had good attitudes.
"They were all people who were engaging," she said. "They were pleasant to talk to. Many of them were self-effacing. And that is different from what you may encounter from some other law students who have a tone of being overly confident and who are maybe very aggressive. That didn't seem to be the pool of people that the faculty were pointing out as being particularly good in class."
The stories of many of those students, as well as recent alumni, practicing lawyers and senior attorneys, are described in the book, Shadel said.
"They gave me similar kinds of perspectives about why they had come to law school, what it was that they had to struggle with in order to become an effective lawyer and how being able to say what you think becomes a really empowering and important skill," she said.
Founded in 1819, the University of Virginia School of Law is the second-oldest continuously operating law school in the nation. Consistently ranked among the top law schools, Virginia is a world-renowned training ground for distinguished lawyers and public servants, instilling in them a commitment to leadership, integrity and community service.