Nation's Leading Scholars in Genetics, Ethics and the Law Will Convene at UVA Conference
Update: "Ethical and Legal Issues in Whole-Genome Sequencing — Is It a Good Idea?" (Podcast) with Mark A. Rothstein, Herbert F. Boehl Chair of Law and Medicine, University of Louisville.
"Why Precipitous, Population-Wide Whole-Genome Sequencing Is Probably Inevitable" (Podcast) with Hank Greely, director of the Center for Law and the Biosciences at Stanford University.
The nation's top scholars and experts in the field of genetics, ethics and the law will explore cutting-edge issues in the field with medical and genetics professionals during a conference at the University of Virginia School of Law on May 22-23.
The third "Genetics, Ethics and the Law" conference will cover a range of topics, including legal and ethical aspects of genomic counseling, reproductive medicine and genetic testing, direct-to-consumer genetic testing, government regulation of genetics, the role of genetics in forensics and related intellectual property issues, among other subjects.
The biennial conference, which the Law School has hosted since its inception in 2009, is sponsored this year by UVA's School of Medicine, the American Society of Human Genetics and the National Society of Genetic Counselors.
"Even if you dig as deep as you can, you will not find in law school curricula a more-evolving, dramatically progressive area of law than that which relates to genetics," said conference founder and organizer Gil Siegal, a University of Virginia law professor who also directs the Center for Health Law and Bioethics at Kiryat Ono College in Israel.
Genetics offers fresh challenges to well-accepted ideas of identity and individual versus societal rights, Siegal said. "There's call for new ideas, new understandings and new resolutions," he said. "There are just too many new topics that need to be discussed [since the last conference two years ago]."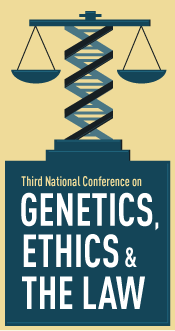 The conference will feature some of the top voices in the field, including Stanford professor Hank Greely, an expert on ethics and prenatal genetic testing; Mark Rothstein, a University of Louisville professor of law and medicine; Susan Wolf, a Minnesota law and medicine professor; UVA professor and medical ethicist James Childress; New York University law professor Erin Murphy; Brenda Finucane, past president of the National Society of Genetic Counselors; and Lawrence Silverman, UVA's director of the Molecular Diagnostic Laboratory and the Davis Immunology Laboratory.
UVA professor Steve Rich, director of the University's Center for Public Health Genomics, will discuss the National Heart, Lung and Blood Institute's Exome Sequencing Project during the conference's keynote address on May 22. The project, in which UVA's Health System is a participant, is studying a collection of more than 200,000 people to better understand the genetic underpinnings of heart, lung and blood disorders.
"The people that will come here are the people who are shaping the way the law in this country has been moving forward," said Siegal, who said it was important that professionals would be learning from legal experts. "Legal knowledge should be accessible to professionals."
Genetic testing is opening up to the masses, Siegal noted, now that genetic tests are being marketed directly to consumers for as little as $99, raising a host of ethical concerns.
"There are a lot of issues involved in how much information should be accessible without a mediator," Siegal said. "How do you make sure that the information is valid? I'm going to give you a test that will tell you how good you will be in basketball — so is it reliable, is it something the FDA should regulate, how do you make sure that poor people can have access to those services, and so on."
Patenting genes is another hot issue the conference will cover, he said.
"On the one hand we want the innovation to grow, so R&D investment should be paid back, but patenting nature is extremely problematic," he said.
Reproductive medicine in particular is facing a wave of change and scrutiny as highly detailed prenatal genetic testing grows more widely used.
"Everything we're saying now in genetics will have a direct effect on the abortion debate," he said.
Siegal said both the professionals who participate and the academics who lecture at the conference learn from the experience.
"It's a place where professionals can engage and ask real-life questions. It's important to me that it's a hands-on conference," he said. On the other side, participating scholars "get feedback from professionals, and that changes the way you come to terms with your legal and ethical understanding."
Participants from the Law School include Professor Lois Shepherd, who will discuss applying bioethical concepts to genetics and genomics (the study of genomes of organisms); Richard Bonnie, director of the Institute of Law, Psychiatry and Public Policy and a professor of law, medicine and public policy; and Professor Margaret Foster Riley, who will discuss FDA regulations of genetic testing and direct-to-consumer genomics.
In a follow-up workshop on May 23-24 after the conference, top academics will present and discuss related legal scholarship on genetics and ethics.
"We will dive deeply into the legal scholarship," Siegal said. "The top legal academics will present lengthy, in-depth papers on cutting-edge issues in genetics, genomics, and society and law, and respond to their peers reflections."
Founded in 1819, the University of Virginia School of Law is the second-oldest continuously operating law school in the nation. Consistently ranked among the top law schools, Virginia is a world-renowned training ground for distinguished lawyers and public servants, instilling in them a commitment to leadership, integrity and community service.