30th Annual Softball Tournament Raises $20,000 for Charlottesville Charity
The University of Virginia School of Law's student softball league raised $20,000 for Charlottesville charity nonprofit Children, Youth and Family Services during last weekend's tournament, which drew 1,500 law students from across the country.

The tournament was the 30th annual North Grounds Softball League Invitational, a UVA Law tradition that this year involved 106 softball teams from 50 law schools located in 18 states and Washington, D.C.

"The tournament was a huge success, and we are honored to have been able to carry on this tradition in its 30th year, and hope to be back when it is in its 60th," said Jason McManis, a third-year law student and head NGSL commissioner.

The tournament — which was held on softball fields at The Park and Copeley Field at UVA, Washington Park, Piedmont Virginia Community College, Darden Towe Park and Charlottesville High School — benefited CYFS, a  local nonprofit organization that seeks to address poverty, child abuse and neglect, parenting, child care quality, teen and family conflict, and early learning.

Over the past 14 years, the tournament has donated $185,000 to CYFS.

In addition to CYFS, this year's tournament will donate $3,000 to UVA Law's Public Interest Law Association, to fund students working in public service jobs over the summer.

UVA Law's co-recreational team, UVA Gold, won the tournament's co-rec championship game, beating out Florida Coastal School of Law, 20-7.

Florida Coastal won the regular division against UVA Law's Gold Men's team, 14-10.

To mark the 30th anniversary, the NGSL organizers hosted the founders of the tournament, Bob Stewart '85 and Thomas McNeill '84, who gave a speech about the tournament's origins at an alumni brunch attended by 60 people.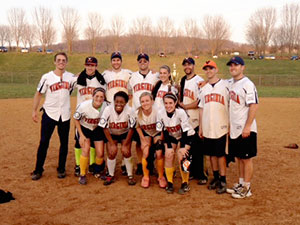 "We really wanted to emphasize the continuity of this wonderful event that so many law students look forward to each year and then look back on with fond memories," McManis said. "[The founders] could not believe how much this event has grown and how much fun the students from other schools have when they come to Charlottesville."

Tournament directors and third-year UVA Law students Elena Longa and Kendall Howes said three alumni teams — UVA Gray, a 1998 UVA squad; TMC, a 2002 UVA team; and BABC, with team members from the law firm Bradley Arant Boult Cummings — also took part in the tournament. Of the alumni squads, UVA Gray made it the farthest, losing to UVA Gold in the quarterfinals.

Overall, Longa said, the tournament went off without a hitch.

"The weather wound up being perfect, though we were a little worried Thursday night when it was sleeting," she said. "Teams really helped this year to keep the parks clean, which we really appreciated. Everyone seemed to have a blast."

Howes added that one of their favorite moments came when "a team from Penn Law wearing American Flag jerseys sang the National Anthem at Darden Towe and all three fields stopped their games to sing along, including the umpires."

About 100 UVA Law student volunteers worked together to make the tournament run smoothly, Longa and Howes said.
Founded in 1819, the University of Virginia School of Law is the second-oldest continuously operating law school in the nation. Consistently ranked among the top law schools, Virginia is a world-renowned training ground for distinguished lawyers and public servants, instilling in them a commitment to leadership, integrity and community service.