Orientation Speaker Sarah Borders '88 on Her Career Path, the One Thing She Wishes She'd Known Before Law School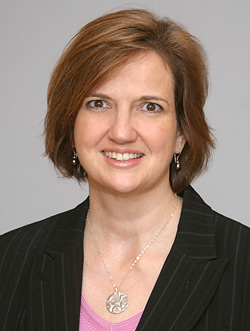 Sarah Robinson Borders, a 1988 graduate of the University of Virginia School of Law and a partner in King & Spalding's Financial Restructuring Practice Group, will be the featured speaker at the Law School's Class of 2016 orientation on Monday.
Borders, who is also a leader of King & Spalding's capital transactions and real estate practice group, as well as a member of its policy committee, recently spoke with the Law School about her practice, her career path and the one thing she wishes she knew before enrolling at UVA Law.
Could you describe the area of law you practice?
I am a corporate bankruptcy lawyer. My practice includes representing companies in financial distress as well as lenders who have financed those companies.
How did you get interested in that?
I wanted a business-oriented practice and was drawn to transactional work. At the same time, I really enjoyed going to court and advocating for my clients. Bankruptcy offered me the opportunity to do both.
In what ways has the economic slowdown of the last few years affected your work?
Because I am a bankruptcy lawyer, it resulted in a burst of activity beginning in mid-2007. Since early 2011, demand has stabilized at a more manageable level.
What was your career path? What led you to your current position?
I clerked for Judge Henry Politz on the U.S. Court of Appeals for the Fifth Circuit and then joined King & Spalding, where I had been a summer associate. I made partner through the ranks and, much to my surprise, am now a "lifer," having practiced with K&S for almost 25 years.
What is a typical day like for you?
There are few typical days. Because most of my cases are in Delaware or New York and few of my clients are in Atlanta, where I live, I travel frequently. I spend at least a portion of each day on firm management issues, some part on client development and the rest on client work.
What is the most challenging aspect of your job?
Successfully adapting to constant change is the biggest challenge. Â There is continual change in the market, in clients, in the law, in technology and in the law firm business model. The only thing you can't do is stand still.
What's one thing you wish you had known before you started law school?
I wish that I had known how much I would love law school. Then I could have back all that time I wasted dreading it or being concerned about whether I would be successful.
For UVA Law students who might be interested in pursuing a similar career, what advice would you give them?
Work hard, do well, and, most importantly, be persistent. If you don't end up working for a corporate law firm as your first job and that is your passion, don't give up. Large law firms hire lawyers at every entry point from staff attorneys to seasoned equity partners. It is not always the case that the best lawyers have the highest grade point averages. Your GPA is just the first opportunity to prove what you can do. You will have many, many additional opportunities to win cases, to win clients and to demonstrate that you are or can be an accomplished lawyer. When you do that, doors that may have been closed at earlier points will be open to you.
Founded in 1819, the University of Virginia School of Law is the second-oldest continuously operating law school in the nation. Consistently ranked among the top law schools, Virginia is a world-renowned training ground for distinguished lawyers and public servants, instilling in them a commitment to leadership, integrity and community service.