Caitlin Eberhardt '15 on Helping Indigenous Women in Guatemala

Rising second-year University of Virginia law student Caitlin Eberhardt is spending the summer in Guatemala, working for the Women's Justice Initiative, a nonprofit organization that aims to help indigenous Guatemalan women through access to legal counseling, education and gender-based violence prevention.
I didn't completely know what to expect from this summer at first — most of my other law school friends had taken traditional legal summer jobs, and I had decided to hop on a plane to Guatemala to do human rights work. Nevertheless, I was excited to be doing something different, and was enthused to be interning with the Women's Justice Initiative, an organization that Kate Flatley, an '08 UVA Law alumna, founded after she graduated. 
A few things became apparent after living in rural Guatemala for a few weeks. A machismo culture is largely prevalent in this country, especially in rural communities. Guatemala is a highly patriarchal society and gender inequality is firmly entrenched in its culture. Women's subordinate position is evidenced by key social indicators including life expectancy, malnutrition, education and literacy. Women and girls rank significantly lower than their male counterparts in these areas. Many women face pressures to adhere to traditional gender roles such as having children, taking care of the house, and making tortillas.  Women are often denied access to educational and employment opportunities outside the home, and some women in more remote areas are never taught to read or write, and do not speak Spanish. Domestic violence is also rampant in Guatemala, with some studies finding that more than 50 percent of women in Guatemala are victims of domestic abuse at some point in their lives.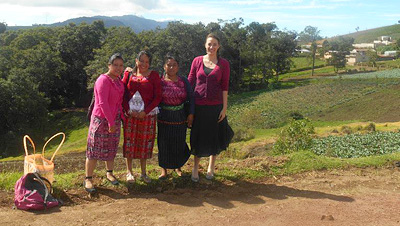 The Women's Justice Initiative works with indigenous Maya women living in these rural communities. WJI empowers indigenous women to address gender inequality and enhance their quality of life by providing them with access to legal counsel and educational resources. WJI envisions a Guatemala in which women are active leaders in their communities, have access to legal services that are culturally appropriate, have knowledge of their legal rights and can safely assert these rights, and are free from gender-based violence.
WJI works to realize this vision first by training local women to be program leaders in their communities. Then, these trained leaders hold a series of workshops for women in their communities covering different personal, legal and health rights. This approach is especially effective because the movement for change comes from within the community and is not imposed from the outside. Further, because the local leaders can tailor the programs to fit the individual needs of their own villages, this model is especially responsive to different communities' situations.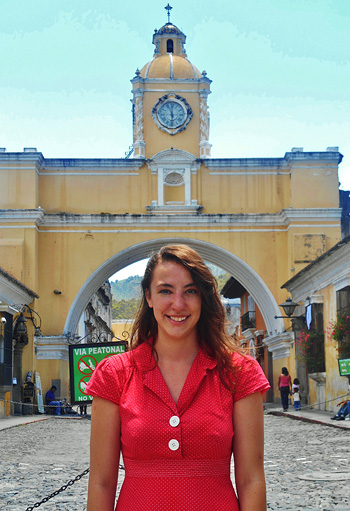 During my time here in Guatemala, I have been observing and how WJI's programming is taking shape in the different towns. I have also been helping to develop some of the trainings that the local leaders will complete before holding their own workshops. Guatemala is ranked among the worst countries in the world in terms of gender equality, and the movement for women's empowerment there is still young and in need of support and development. Yet, one of the more surprising realizations I had this summer was that even in the United States, where we have been fighting for gender equality for an entire century, the equal status of women is still not totally secured. Like the government of Guatemala, the U.S. government has recognized in its laws that women and men are equal and should have equal rights. However, in America, commonly held ideas about the roles men and women should play in the home and in public, which health services should be available to women, and even views on standards of beauty oftentimes remain biased in favor of male decision-makers. Stepping out of my own culture and observing another has given me some perspective on women's rights in my own country. While the state of women's rights in Guatemala is far more dire than in the United States, I am grateful for the insight this experience gave me into the lives of women in both countries. I believe that while I have shared knowledge and experience with the women of Guatemala, they in turn have taught me so much by sharing their own experiences with me.
The most important lesson I've learned from my work is that it is essential that a movement for rights come from within a community, because only then is the movement a genuine and accurate reflection of the true needs of the people. Furthermore, I've learned that even when people have legal rights on paper, this is altogether very different from having those rights in practice. Whether it be in Guatemala or in the United States, people must be constantly vigilant not only in claiming their rights, but also in protecting the ability to exercise them in their daily lives.
Eberhardt kept a blog of her experiences this summer. To read it, visit http://texanaenguatemala.blogspot.com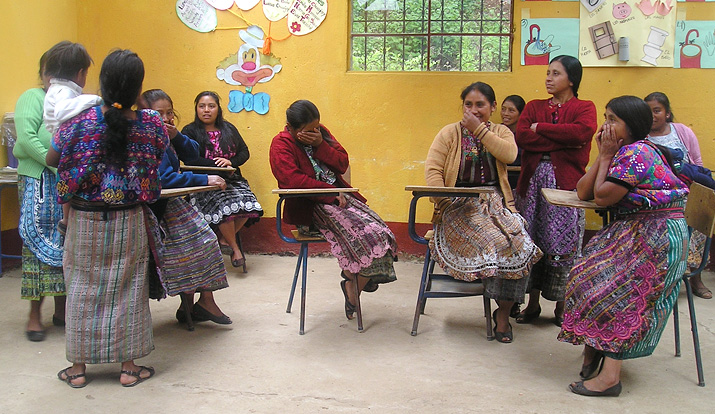 Eberhardt took part in a Women's Justice Initiative workshop in Los Pinos in which the women planned a skit about how a woman with high self-esteem might handle a situation versus someone with low self-esteem. "The first workshop we do with the women is always about self-esteem — it's a great way to ease into the material and start reinforcing that women are capable and have value outside of the home," Eberhardt said.
Founded in 1819, the University of Virginia School of Law is the second-oldest continuously operating law school in the nation. Consistently ranked among the top law schools, Virginia is a world-renowned training ground for distinguished lawyers and public servants, instilling in them a commitment to leadership, integrity and community service.