Before she entered the University of Virginia School of Law, Nina Goepfert started a prison outreach program as an undergraduate, was a visiting scholar in the Middle East, edited a bimonthly journal, helped refugees fleeing abuse in their native countries learn English, and worked as a legal aid investigator in New York.
She also speaks four languages other than English.
Goepfert is just one of the many accomplished members of the Class of 2017 who officially embarked upon their legal education at UVA Law this week. The 307 first-year students began classes on Wednesday, but were officially welcomed on Monday with talks from Dean Paul G. Mahoney, Hogan Lovells partner and featured speaker Warren Gorrell '79, Student Bar Association President Alexander Matthews and Interim Assistant Dean of Admissions Cordel Faulk.

Cordel Faulk
"Good lord, are you an impressive group of men and women," Faulk told the class. "If I had to put my application up against the ones you all submitted, I could not admit myself." (Q&A with Cordel Faulk)
Selected from a pool of 5,246 applicants, students in the entering class earned a median undergraduate GPA of 3.85 and received a median LSAT score of 169. They come from 39 states, the District of Columbia and 10 foreign countries, and attended 135 undergraduate institutions. Thirty-six percent are women and 19 percent identify themselves as minorities. (Full Class Profile)
"You've worked in the State Department, you've been professional baseball players, you've succeeded on Wall Street, you've studied neuroscience, and you've served the community around this country and around the globe," Faulk said.

Hogan Lovells partner Warren Gorrell '79 was the featured speaker for orientation on Monday.
Nina Goepfert
As an investigator for The Legal Aid Society's Criminal Division in Brooklyn, Nina Goepfert helped the defense of indigent clients by looking into allegations against them for crimes such as robbery, assault, drug possession and sexual assault.
"I've seen the ways people's lives have been impacted by the law, particularly when it comes to criminal law," said Goepfert. "I want to be at the table in deciding what those laws are. And I want to make that process much more inclusive for all people."
Her interest in understanding mass incarceration began while majoring in politics and African-American studies at Oberlin College in Ohio, where she co-founded the Prison Justice Project, a student group that created an education program where college professors taught classes at a local prison.
College students and prison inmates "don't see each other," Goepfert said. "That's a purpose of prison. So breaking down that barrier is something we wanted to do to support incarcerated people and further our own education."
Her efforts to help underprivileged and vulnerable populations also have included being the education editor for the "Reentry Advocate," a bimonthly journal circulated in Ohio's prisons; mentoring and teaching English to Somali youths and other refugees in Boston; and, while serving as a visiting scholar at the University of Jordan, interning at a community development center, where she taught English to Palestinian refugees and authored a case study of the center.
Goepfert said other than her interest in street law and a desire to influence law and policy someday, she's not sure of the exact career choices she'll make. But she is sure that she made the right choice in schools.
"I visited a lot of top-tier laws schools," Goepfert said. "But here there are a lot of prominent pictures of female alumni, and female alumni of color, and that meant something to me. I felt more comfortable here."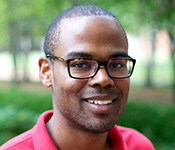 Ajani Brown
Ajani Brown said his path to UVA Law began with volunteerism. Because his parents raised him with a sense of civic awareness, Brown said, he eventually became a paralegal intern at Legal Aid of NorthWest Texas, where he helped people below the poverty line access services.
"People would be so grateful for me just filling out the documents they couldn't fill out themselves," Brown said. It made him wonder how gratifying it would be to serve as one of the attorneys who actually handled their cases.
Brown is currently interested in regulatory law, and said that UVA instructors were a big draw when it came to deciding on a school. He pointed to Adjunct Professor Edward "Ned" Kelly, who teaches a short course about the financial crisis, and Professor Brandon Garrett, an expert in criminal law who will soon publish the book "Too Big to Jail: How Prosecutors Compromise with Corporations."
"One of Garrett's articles I read, about the constitutional standing of corporations, shows that corporations being treated like humans [in the legal sense] isn't a new idea," Brown said. "I think I will enjoy learning from him."
Brown said he's not sure exactly where his career will take him, but he is interested in working someday for either the Securities and Exchange Commission or the Treasury Department and focusing on securities regulations.
Brown, who studied history at Brown University in Providence, Rhode Island, was captain of his college track team and made the Capital One Academic All-District Track and Field Team in his last year. He also was a debate coach for the Rhode Island Urban Debate League.
Brown said he didn't want to attend law school in a hectic setting, so Virginia was the best fit.
"UVA will help keep me focused," he said. "Charlottesville is close enough to a big city, but it will keep me grounded."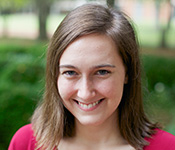 Kathryn Jo Payne
A recent Federal Bureau of Investigation intern, Kathryn Jo Payne comes to UVA with top-secret security clearance and an extensive history of student leadership roles on her resume. She said a broad search of law schools led her to Charlottesville.
"I looked all over when I was applying," she said. "I didn't know a lot of people who went to law school before me. I loved the programs of academic study at UVA Law."
She said she is looking forward to her criminal law courses and wants to take the Child Advocacy Clinic, which represents youths in the juvenile justice system.
"I'm definitely interested in criminal law, but I'm keeping my options open," she said.
While studying sociology at Clemson, Payne was active on the student judicial board, which stoked her interest in trying to understand human behavior when an accusation of wrongdoing is leveled.
"I got to talk to students about their violations and the process with them," she said of her work as a student adviser. "You got to see different sides of how everyone views the same violation."
She also served on the freshman council, as president of Clemson's chapter of the American Criminal Justice Association, and as a student representative to the task force to update Clemson's sexual violence policy and awareness initiatives.
In addition, Payne was part of an academic research team that studied eyewitnesses' ability to recognize faces, and she is currently co-authoring a paper about how people verbally describe from memory the faces they've seen. She presented the research on which the paper will be based at the 59th annual meeting of the Southeastern Psychological Association.
Payne most recently interned for the FBI office in Columbia, South Carolina, where she completed case reviews for agents that helped them determine investigative needs.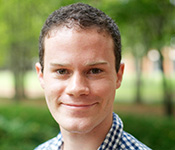 Joe Baerenz
Like his classmate Goepfert, Joe Baerenz also brings Big Apple experience to the Law School. He recently worked at the New York City-based investment company American Realty Capital, whose focus is real estate mergers and acquisitions. He was involved in producing the company's marketing materials, and he helped run corporate events that, at times, hosted as many as 700 attendees in hotels across the country.
"I bring to law school two years of work experience and a sense of certainty," Baerenz said. "This was definitely a big choice and a big shift."
An English major at Virginia Tech, Baerenz presented a paper he co-authored on the poet Lord Byron at the 2011 International Student Byron Conference in Greece. While at Tech, he also earned a varsity letter as a cheerleader and was named to the All-Athletic Honor Roll each year.
Baerenz said he may work in corporate finance after he graduates, as an outside adviser to companies like his recent employer, but hasn't ruled out being a legal scholar either.
Regardless of where he starts his career, Baerenz said, Charlottesville was the right place to study law.
"Charlottesville is beautiful and awesome," he said. "I liked the community at UVA Law, the small sections and the softball, and that it's removed from the undergraduate campus."
He added that meeting his future professors at the open house for admitted students helped seal his decision.
"The professors were the most charismatic I experienced, and I liked the ambience of the school," he said. "I had been pretty sure before I visited, but I was definitely certain afterward."
Founded in 1819, the University of Virginia School of Law is the second-oldest continuously operating law school in the nation. Consistently ranked among the top law schools, Virginia is a world-renowned training ground for distinguished lawyers and public servants, instilling in them a commitment to leadership, integrity and community service.