UVA Law Hosts Student Regional Workshop on International Humanitarian Law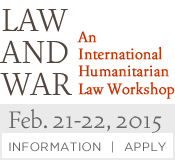 A group of international legal scholars and experts will lead a workshop on issues relating to international humanitarian law Feb. 21-22 at the University of Virginia School of Law.
The workshop, which is sponsored by the Law School and the American Red Cross, is open to U.S. full- and part-time law and graduate students. An application is required to attend.
During the workshop, presentations and small-group exercises will guide participants through an intensive examination of international humanitarian law, with a focus on its application to combatants and civilians. Session topics include:
Means and methods of warfare
International humanitarian law and international human rights
Conflict classification
Protected persons
War crimes.
Among the instructors are international legal scholars, experts from the International Committee of the Red Cross and the American Red Cross, military judge advocates and UVA Law professors.
Completed applications must be received by email no later than Feb. 16, 2015. The workshop committee will make rolling admission decisions starting in mid-January.
For more information, contact uvaihlconference15@gmail.com.
Founded in 1819, the University of Virginia School of Law is the second-oldest continuously operating law school in the nation. Consistently ranked among the top law schools, Virginia is a world-renowned training ground for distinguished lawyers and public servants, instilling in them a commitment to leadership, integrity and community service.