Alumni Q&A: Malia Arrington '02 Tracks Ethics Complaints, Curtails Abuse for U.S. Olympic Committee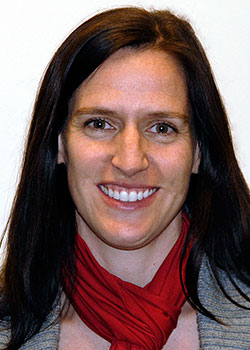 With the Winter Olympics poised to begin on Friday in Sochi, Russia, Malia Arrington, a 2002 graduate of the University of Virginia School of Law, recently talked about her work as director of ethics and SafeSport for the U.S. Olympic Committee.
Arrington discussed the challenges of her job, which involves investigating allegations of ethical misconduct and addressing physical, sexual and emotional abuse in the sports world.
Can you describe your role as director of ethics and SafeSport with the U.S. Olympic Committee?
As director of ethics and SafeSport, I develop centralized and standardized resources for our [U.S.] National Governing Bodies. I also encourage NGBs to adopt policies, practices, programs and tools to address abuse, misconduct and policy violations. If an NGB or USOC employee has an ethical claim, I support and guide that individual throughout the process.
While ethics is an area that is probably more familiar to everyone, SafeSport isn't as commonplace. SafeSport is an initiative that seeks to create a healthy, supportive environment for all sport participants. Through education, resources and training, we attempt to help members of the sport community recognize, reduce and respond to misconduct in sport.
What are some of the key challenges you face in your job?
The nature of the USOC makes this position challenging. We support and promote many different organizations and are expected to provide the highest quality products and services at all times. While this can be challenging, it's also very rewarding to have a role in the Olympic movement. Knowing I have a small part in helping someone's dream become a reality keeps me motivated.
Two of the bigger challenges I face are determining how to market SafeSport and identifying the target audience. In business, choosing the right audience is just as important as choosing the right messaging. Abuse prevention in sport is still relatively new, so it can be challenging. But we learn as we go.
What is a typical day like for you?
Every day on the job is different and provides new challenges. The nature of my role is interacting with various business functions to make sure we're all taking the necessary steps to protect our athletes and stop abuse in sport. There are days I work with our marketing department and legal team, and other days I spend collaborating with colleagues in development. I also spend a lot of my time responding to different ethical inquiries and allegations.
During the past few months, I've overseen the launch and execution of SafeSport's "Make the Commitment: Stop Abuse in Sport" public awareness campaign. The intent of the campaign is to promote safe and fun training environments for athletes. The yearlong campaign culminates in April with a SafeSport Summit, which raises awareness about abuse in sport and provides best practices for our constituents.
Will your typical day change as the Olympics draw near/or start?
I'll be in Colorado Springs during the Olympic and Paralympic Games, so my day-to-day responsibilities won't change too much. 
What advice do you have for students interested in careers in sports law?
I advise students interested in careers in sports law to get out there and experience life in that career. The only way to find out if a field is suitable for you is to try it on for size. Seek out internship opportunities and gain as much experience as possible. Also, research the field. The sporting industry is always changing, so stay current with information. Other than that, I encourage students to find an area they are passionate about and follow it. The old saying certainly holds true that if you love what you do, you'll never work a day in your life.
Founded in 1819, the University of Virginia School of Law is the second-oldest continuously operating law school in the nation. Consistently ranked among the top law schools, Virginia is a world-renowned training ground for distinguished lawyers and public servants, instilling in them a commitment to leadership, integrity and community service.